Mercedes to market Tesla-powered 2014 B-Class EV in U.S.
Thu, 05 Jul 2012 08:29:00 EST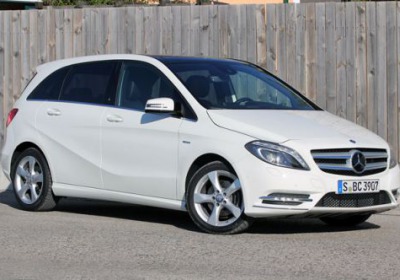 Looks like another Tesla Motors investor will be looking to cash in on their connection. Autoweek reports Mercedes-Benz will offer their B-Class in the U.S. with Tesla propulsion.

The magazine says their source at the German automaker confirms plans for a B-Class electric-only vehicle. While Tesla already provides battery packs for the battery-powered Smart ForTwo, the B-Class EV will reportedly have Tesla batteries, motor and other components. U.S. residents should be able to procure one sometime in 2014.

The same Mercedes source says plans for a hybrid B-Class have been postponed for now. Adding a range-extending, gasoline-powered engine to an electric vehicle would put the car into a different class for which rebates and incentives aren't as favorable in the States.

Mercedes-Benz parent Daimler owns a 4.7-percent share of Tesla. Toyota also owns part of the electric-car company with which it builds electric RAV4 crossovers.
---
By Chris Tutor
---
See also: Maybach lost upwards of $500k on each vehicle sold, Mercedes-Benz killing Maybach in 2013, replacing with S600 Pullman, Maybach and Aston Martin alliance talks fall apart.