Lexus boots up 2014 IS configurator
Mon, 08 Jul 2013 10:01:00 EST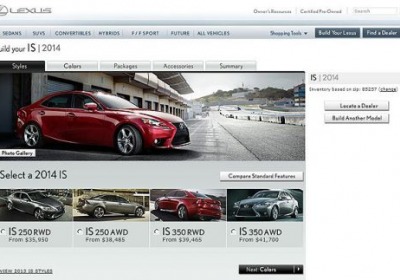 Throw away those scraps of paper and pull yourself up to a keyboard, as Lexus has launched the online configurator for its all-new 2014 IS sedan. The base price for the entry-level IS 250 RWD is $36,845 (all listed prices include the $895 delivery fee), delivering a 2.5-liter V6 rated at 204 horsepower that provides enough thrust for a 0-60 sprint in 7.7 seconds. The range-topping IS 350 AWD starts at $42,595, packed with a 3.5-liter V6 rated at 306 horsepower that will deliver 60 mph in just 5.7 seconds.

After choosing an engine and driveline, the configurator will offer eight exterior colors and five interior upholstery shades (some combinations, such as selecting Obsidian over Rioja Red NuLuxe leather, require upgrades such as the F Sport package). Consumers are then offered four different bundled option packages as enhancements. The least expensive is Navigation ($4,670), followed by the aforementioned F Sport ($5,800) and a choice between two luxury packages ($7,195) with light or dark wood trim.

Last to come are the accessories and dealer-installed options such as remote engine start, glass-break sensor, wheel locks and a cargo net. Go crazy with your choices, as we did, and the price will exceed $50,000. Head over to the Lexus IS configurator, and check it out for yourself.
---
By Michael Harley
---
See also: Autoblog Podcast #339, Toyota to enter modern turbo four-cylinder era with Lexus crossover, Toyota investing $200M in Southern manufacturing.