Jaguar F-Type Coupe spotted testing
Thu, 09 May 2013 20:29:00 EST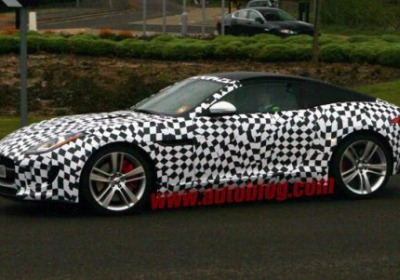 The automotive world has been hot on fire with the Jaguar F-Type of late. We're still recovering from the excitement of driving Jaguar's new sports car for the first time, and recently we had a predictive look at a coupe version. As it turns out, those 'patent sketches' were just a warm up for the real deal F-Type Coupe, as this brand new set of spy images proves out.

Word from our shooter is that security around the F coupe was and is really tight. The photographer had to hide in the cargo area of his clandestine SUV, just to catch these few, not-perfectly-clear images (that odd color your see is window tint). Still, the photos are good enough to see that the rakish silhouette of the hardtop is going to do justice to the convertible. In fact, the new top seems to flow quite perfectly into the car's rear haunches.

Expect that the F-Type Coupe will share an engine lineup with the roadster, meaning both a naturally aspirated and a supercharged V6, as well as a V8 option. Hot R and R-S versions of the Jaguar coupe are a virtual lock, too, though how far down the product pipeline they are is unclear.
---
By Seyth Miersma
---
See also: New Jaguar crossover to be called 'XQ'?, Jaguar F-Type Coupe patent images exposed, 4-cyl coming?, Jaguar's Callum refutes two XJ bodystyle rumor.