Infiniti Q50 Eau Rouge racing toward Detroit with Red Bull in its veins
Thu, 05 Dec 2013 11:01:00 EST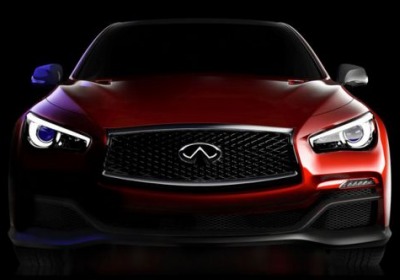 There are several ways an automaker can get into Formula One racing. It can start its own team from scratch (like Toyota did in 2002), it can buy an existing team (like BMW did with Sauber in 2005) or it can supply engines to other teams (as so many manufacturers have done over the years). Infiniti chose another direction and opted to sponsor the world-champion Red Bull Racing team.

Infiniti has undoubtedly poured millions into its partnership with Red Bull since it started in 2011, but aside from the Sebastian Vettel edition FX (which technically emerged from the company's sponsorship of the driver as separate from the team), the tie-in has yet to translate into a Red Bull-tuned (or at least -inspired) Infiniti for the road. But that's just what Nissan's premium brand has in store for us at the upcoming Detroit Auto Show in January.

Well, almost, because the concept just announced is still a step or two away from reaching your local Infiniti dealership, but here it is just the same. It's called the Q50 Eau Rouge, and it's based on the company's latest tech-laden sports sedan. It takes its name, of course, from the famous uphill section of the Spa-Francorchamps circuit where Sebastian Vettel won the Belgian Grand Prix earlier this year, but Infiniti isn't telling us much more than that.

The concept is said to incorporate "aerodynamic styling treatments and design elements that are influenced by the company's partnership with Red Bull, and from the solitary teaser image above, we can see a new front air dam and side mirrors crafted from carbon fiber, and some sort of protrusions from the top of the hood at the base of the windshield. We'll have to wait to find out more, but we hope the modifications prove to be more than skin-deep.

Dec. 5, 2013
Infiniti to Reveal Formula One Inspired Concept at Detroit Show

Hong Kong – Infiniti will reveal a Formula One inspired concept car based on the Q50 premium sports sedan at the North American International Auto Show in Detroit.

The concept car represents Infiniti's design vision of a high performance variant of Q50. Called 'Q50 Eau Rouge', the car is named after the world-famous corner at the Formula One track in Spa-Francorchamps, a corner which requires extraordinary strength, courage and commitment; it has seen some of the most incredible driving feats in Formula One history. For Infiniti, the Q50 Eau Rouge concept blends road car technology and a thoroughbred motorsport vision.

The Q50 Eau Rouge features aerodynamic styling treatments and design elements which are influenced by Infiniti's partnership with Formula One world championship-winning team Infiniti Red Bull Racing.

"Performance is a key pillar of Infiniti's DNA and this car expresses a deepened design interpretation of that. The Q50, with an abundance of technologies, provides a great basis for an extreme performance version, embodied in the design of Q50 Eau Rouge," said Alfonso Albaisa, Infiniti's Executive Design Director.
---
By Noah Joseph
---
See also: Infiniti Q50 steer-by-wire system took 10 years to develop [w/video], Toyota, Lexus dominate KBB's Best Resale Value Awards, Infiniti brand will finally make its debut in Japan, but not the name.