Infiniti brand will finally make its debut in Japan, but not the name
Thu, 14 Nov 2013 08:29:00 EST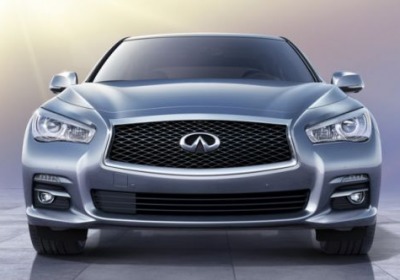 Nissan left the automotive media scratching its collective head when it announced that its Infiniti luxury brand would be renaming all of its vehicles, with cars wearing the Q designation and CUVs/SUVs wearing the QX badge. So the G Sedan became the Q50, and the G Coupe became the Q60. The QX56, meanwhile, became the QX80, and the FX crossover became the QX70. It is still thoroughly confusing nearly a year later.

Not content to confuse its US customers alone, Nissan will be fiddling with the name of one of its most revered Japanese-market models - the Skyline. Rebadged for the US as the Q50, and before that as the G Sedan/Coupe, the new Skyline will wear an Infiniti badge. What makes this truly confusing, though, is that the car won't be called the Infiniti Skyline, despite its badging. It won't even be called the Nissan Skyline, anymore. It's now just the Skyline. Apparently, Nissan thinks it can capitalize on the Skyline's link to the Japanese royal family (the Skyline was originally a product of Prince Motors, which provided vehicles for the Emperor and his family), by ditching any brand names and referring to it as its own model, according to Automotive News.

Now, confusion aside, there are things about Infiniti badging in Japan that make sense. Badging all the Nissans that eventually become Infinitis as Infinitis in the first place goes a long way to make the brand seem separate and distinct from its parent company. Speaking to AN, Infiniti's executive vice president of global product planning, Andy Palmer, puts it this way, "We have to treat Infiniti, if you will, in the same [way] that Volkswagen treats Audi. It's not a Nissan-plus. Infiniti has to stand head-to-head with any of those German competitors."

Still, the downsides to setting up the Infiniti brand in Japan are quite large - building up a separate sales channel alone requires a huge investment, and the track record of Japanese-owned American luxury brands coming to Japan isn't great. See Lexus. Even if Infiniti does manage to penetrate the Japanese market, its contribution to its overall sales goals will be remarkably slim. Infiniti already tallies Skyline and Fuga sales into its global figures, and the luxury market in Japan is so small that the idea of setting up shop hardly seems cost effective.
---
By Brandon Turkus
---
See also: Nissan does its best Google Glass impression with 3E headgear [w/video], Nissan reveals radical BladeGlider concept for Tokyo debut, Nissan reveals new Qashqai crossover for Europe.