Hurricane Sandy cost automakers 15,000 vehicles, may have ruined up to 200k
Wed, 07 Nov 2012 16:29:00 EST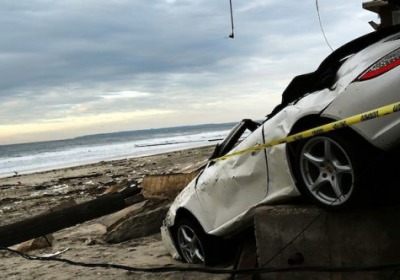 Hurricane Sandy was the largest Atlantic storm in US history, and its total economic impact is just now coming into view. According to Automotive News, Toyota, Chrysler, Nissan and Honda are set to scrap around 15,000 new vehicles ruined by the storm. Nissan alone accounts for about 40 percent of those, with 6,000 Nissan and Infiniti models deeded "un-saleable" due to damage. The company saw 56 dealerships shuttered due to the storm, but 51 of those have since reopened.

Toyota, meanwhile, had some 4,000 vehicles at its Newark port facility, and of those, 3,000 may be scrapped. An additional 825 were dealer inventory when they were ruined. Honda and Acura dealers are reportedly sending 3,440 vehicles to the salvage yard. By comparison, Chrysler weathered the storm fairly well with 825 units destroyed, while Hyundai suffered only 400 lost units and Kia scrapped around 200.

As you may recall, Fisker also suffered some losses, and Automotive News reports the manufacturer saw 320 Karma models damaged beyond repair. Ford and General Motors have yet to come up with estimates, and no automaker has commented on the full cost of replacing the vehicles.

Meanwhile, NADA said the storm could claim as many as 200,000 personal vehicles.
---
By Zach Bowman
---
See also: Toyota recalling 11,200 Scion iQ models over faulty passenger sensors, Acura preps ILX for endurance racing challenge, SEMA crowns Mustang, FR-S as this year's hottest cars in the building.