Toyota recalling 11,200 Scion iQ models over faulty passenger sensors
Wed, 07 Nov 2012 15:31:00 EST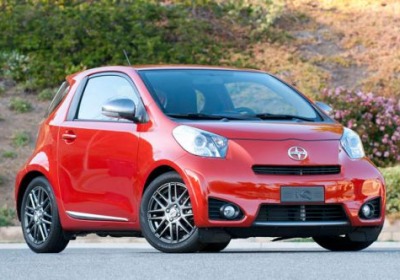 Toyota has announced a voluntary recall of 11,200 Scion iQ models from the 2012 and 2013 model years. According to the manufacturer, the problem with these pint-sized hatchbacks concerns the front passenger Occupant Classification System (OCS) weight sensor cables.

The OCS sensors in the front passenger seat control the operation of things like the airbags and seatbelt pre-tensioner. In these affected models, the cables for these sensors located in the seat track can become damaged as the passenger seat slides forward and backward. And if the cables are damaged, the airbags and seatbelt pre-tensioner may not function properly.

No injuries or crashes have been reported in conjunction with this issue.

Toyota says that owners will be notified by mail beginning in early December, at which point the vehicles will be repaired – free of charge – at dealerships. The automaker has also confirmed that this recall only affects vehicles in the United States, and that no other Toyota, Lexus or Scion products are involved.

Scroll down for the official press release.

Toyota Announces Voluntary Safety Recall of Certain 2012 and Early 2013 Scion iQ Vehicles

TORRANCE, Calif., Nov. 7, 2012 – Toyota Motor Sales, U.S.A., Inc. (TMS), today announced that it will conduct a safety recall involving approximately 11,200 Scion iQ vehicles to inspect the front passenger Occupant Classification System (OCS) weight sensor cables and install new protective covers over the sensors.

The front passenger seat assembly of the Scion iQ is equipped with sensors for the OCS which is used to control the operation of the front passenger Supplemental Restraint Systems, such as the airbags and seat belt pre-tensioner. Cables for thesensors located in the seat track cancome into contact with an object placed near the seat track andbecome damaged as the front passenger seat slides forward or backward.

Depending upon how the cable is damaged, the airbags may not deploy as designed or the airbags and seat belt pre-tensioner may be improperly activated.

No crashes or injuries have been reported for this condition.

Owners of vehicles covered by this safety recall will receive an owner notification letter via first class mail starting in early December 2012. The repair will take approximately one hour depending on the dealer's work schedule.

Today's announcement is for U.S. market vehicles only. No other Toyota, Lexus, or Scion vehicles are involved.

Detailed information is available to customers at www.toyota.com/recall and the Scion Customer Experience at 1-866-707-2466.
---
By Steven J. Ewing
---
See also: Scion FR-S may be getting supercharger kit from TRD, Pics Aplenty: Scion FR-S and Subaru BRZ show up en masse at SEMA, Scion FR-S SCCA World Challenge racecar, ready for the track.