Honda recalls 2012-13 Fit Sport models over stability control issue
Mon, 29 Apr 2013 08:44:00 EST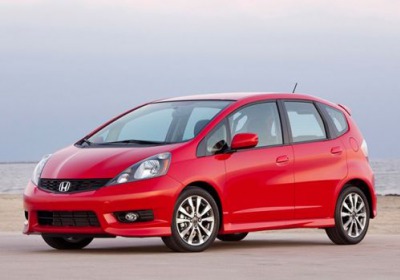 Honda is recalling 43,782 examples of the 2012 and 2013 Fit Sport in the US and close to 2,000 more in Canada. During federal compliance testing it was discovered that the software for the Vehicle Stability Assist allows an excessive tilt angle before applying the brakes to prevent a crash. The issue only affects Fit Sports equipped with a certain kind of tire.

Honda will notify owners in mid-May, at which time owners can take their cars to dealers to have the stability control software updated free of charge. There's a press release from Honda below with more details.

Statement by American Honda Regarding VSA Non-compliance Recall: 2012-2013 Honda Fit Sport

TORRANCE, Calif. – Apr. 26, 2013 – Honda will voluntarily recall 43,782 model-year 2012-2013 Fit Sport vehicles in the United States to update the Vehicle Stability Assist (VSA) system software, free of charge. The VSA system on certain 2012-2013 model year Honda Fit Sport vehicles equipped with certain tires may allow yaw rates that exceed certain U.S. Federal Mo
tor Vehicle Safety Standards (FMVSS) requirements. This issue was discovered during FMVSS compliance testing, and Hondais not aware of any related crashes or injuries.

Honda is announcing this recall to encourage owners of all affected vehicles to take their vehicles to an authorized dealer as soon as they receive notification of this recall from Honda. Mailed notification to customers will begin in mid-May, 2013. In addition to contacting customer
s by mail, at that time, owners of these vehicles will be able to determine if their vehicl
es require repair by going to www.recalls.honda.com or by calling (800) 999-1009, and selecting option 4.
---
By Jonathon Ramsey
---
See also: Honda signs on as Pikes Peak sponsor, race participant, Honda boss says Chinese drivers don't want green cars, Honda concept dials M for minivan [w/video].