Honda motorcycles most stolen, just like Honda autos
Tue, 26 Nov 2013 18:30:00 EST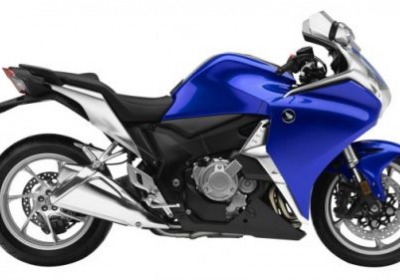 It comes as no surprise that Honda's Civic and Accord are the most stolen cars in America, but as it turns out, thieves like the company's motorcycles the most too, according to a study by the National Insurance Crime Bureau (NICB). Out of the 46,061 two-wheelers stolen in 2012, 9,082 of them were Hondas. While that's bad news for Honda motorcycle owners, at least motorcycle theft went down slightly from 2011, which had 46,667 reported thefts. Motorcycle theft recoveries, on the other hand, were just 39 percent.

Yamaha is up next in the theft rankings (7,517), then Suzuki (7,017). The numbers drop a bit for fourth and fifth place, Kawasaki (4,839) and Harley-Davidson (3,755). These five brands are far and away the most stolen motorcycles: sixth place, apparently held by scooter, dirtbike and ATV maker Taotao, dropped to 914 theft reports.

California had the most reported thefts (6,082), followed by Florida (4,110), Texas (3,400), North Carolina (2,574) and Indiana (2,334). By city, New York City had the most reported thefts (903), followed by Las Vegas (757), San Diego (633), Indianapolis (584) and Miami (535.

It would seem that motorcycle thieves usually prefer to steal in places with year-round warm weather - New York City aside – and weather plays another role in the number of thefts since thefts are most likely to take place in July, followed by August and June. February is when motorcycles are least likely to be stolen, followed by January and December.

Head below for the press release, where you'll find plenty of interesting - and perhaps useful - information.

NICB Reports Small Decline in Motorcycle Thefts in 2012

Honda, Yamaha, Suzuki Are Top Stolen Brands

DES PLAINES, Ill., Nov. 25, 2013 – The National Insurance Crime Bureau (NICB) today released a report on motorcycle thefts in the United States for 2012. The report is based on National Crime Information Center (NCIC) motorcycle theft data for 2012. A total of 46,061 motorcycles were reported stolen in 2012 compared with 46,667 reported stolen in 2011-a decrease of 606 thefts or 1 percent.

American Honda Motor Company, Inc. had the highest reported thefts in 2012 with 9,082. In second place was Yamaha Motor Corporation with 7,517. American Suzuki Motor Corporation (7,017); Kawasaki Motors Corp., U.S.A. (4,839) and Harley Davidson, Inc. (3,755) round out the top five makes.

California was the state where the most motorcycle thefts occurred in 2012 with 6,082. Florida with 4,110 thefts was second. Texas (3,400); North Carolina (2,574) and Indiana (2,334) complete the top five states.

When looking at the cities where motorcycle thefts were reported, New York City, was at the top of the list with 903 thefts. In second place was Las Vegas with 757. San Diego was third with 633. The fourth spot was held by Indianapolis with 584 and in fifth was Miami with 535.

Motorcycles are generally a seasonal mode of transportation making them most susceptible to thefts during the months when the weather is most conducive to their use. That is demonstrated in a temporal analysis of the thefts. Most thefts occurred during the summer months and the fewest during the winter. July had the highest number of reported thefts in 2012 with 5,529. August was next with 5,290 followed by June with 4,765. The fewest thefts were reported in February with 2,089 followed by January (2,481) and December (2,659).

While the recovery rate for motor vehicle thefts in 2012 was 53.9 percent, for motorcycles in that same year it was only 39 percent. If not quickly recovered, stolen motorcycles are often "chopped" with their parts finding their way into the black market supply chain. Others are kept intact and resold to unsuspecting buyers after crude attempts to alter their identification. Still others are hidden away for years and, on occasion, recovered as they are in the process of being exported in shipping containers.

Just such a case occurred at the Port of Los Angeles recently when a 1953 Triumph motorcycle, stolen more than 46 years ago from Omaha, Neb., was located in a shipping container destined for Japan. Officers with U.S. Customs and Border Protection at the port sought assistance from the NICB in tracking down an NCIC theft record. That led to the original theft report taken by Omaha police in February 1967.

From the theft record, the original owner was contacted-still living in Omaha-and he was recently reunited with his Triumph motorcycle. See the video of this happy occasion here.

Anyone with information concerning insurance fraud or vehicle theft can report it anonymously by calling toll-free 800-TEL-NICB (800-835-6422), texting keyword "fraud" to TIP411 (847411) or submitting a form on our website. Or, download the NICB Fraud Tips app on your iPhone or Android device.

About the National Insurance Crime Bureau: headquartered in Des Plaines, Ill., the NICB is the nation's leading not-for-profit organization exclusively dedicated to preventing, detecting and defeating insurance fraud and vehicle theft through data analytics, investigations, training, legislative advocacy and public awareness. The NICB is supported by more than 1,100 property and casualty insurance companies and self-insured organizations. NICB member companies wrote $350 billion in insurance premiums in 2012, or more than 78 percent of the nation's property/casualty insurance. That includes more than 93 percent ($160 billion) of the nation's personal auto insurance. To learn more visit www.nicb.org.
---
By Damon Lowney
---
See also: Honda's new City hints in India at US-bound Fit sedan [w/videos], Honda already working on NSX roadster, Honda adopts English as its official language in meetings worldwide.