Honda adopts English as its official language in meetings worldwide
Mon, 25 Nov 2013 08:29:00 EST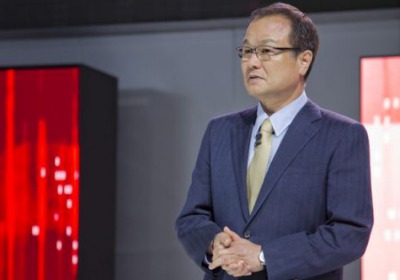 Japanese was clearly the language of operation while we visited Honda's global headquarters in Tokyo last week, as well as its newest factory and principal test track. Chief executive Takanobu Ito (pictured above) spoke to us through an interpreter. But according to the latest reports, the Japanese language is being phased out at Honda in favor of English.

This according to Bloomberg, which points out that tire manufacturer Bridgestone and rival automaker Nissan have implemented similar measures, as have Japanese retail giants Fast Retailing Co. and Rakuten Inc. Honda's shift from Japanese to English comes as part of a shift in focus from central decision-making to a more regional model, but while English has clearly emerged as the international language of business, it's no coincidence that it's also the dominant language here in America. Bloomberg points out that over the 12-month period that ended this past March, North America accounted for a massive 47 percent of Honda's revenues worldwide.
---
By Noah Joseph
---
See also: Honda speeds down memory lane with its first F1 car, Cafe racer motorbikes storm Japan, Honda to spool up turbos, workforce with F1 tech.