Galpin Ford GTR1 supercar debuts in Monterey
Fri, 16 Aug 2013 12:44:00 EST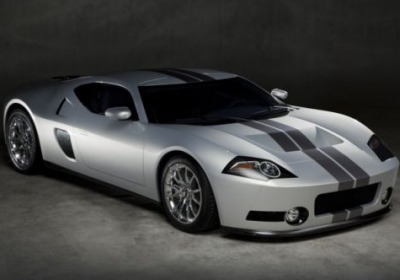 Galpin Auto Sports has finally taken the wraps off the car we first previewed back in December, the Galpin Ford GTR1. A few weeks ago, we posted the first hints of just what the GTR1 would be capable of, with Galpin teasing that its 5.4-liter, twin-turbocharged V8 would produce in excess of 1000 horsepower, with a top speed of 225 miles per hour. Package all that in a coachbuilt body, and you have the recipe for one wicked supercar.


The price for the carbon fiber-bodied car is $1,024,000.
Now, we have all the glorious details. Galpin is targeting a production run of six cars, but if interest is strong enough, will expand its initial quote to 24 vehicles. The price for the carbon fiber-bodied car is $1,024,000. Opting for the aluminum bodywork could lower that, although it's not immediately clear by how much.

Power comes from a mid-mounted, twin-turbocharged, 5.4-liter V8 that generates 1,024 horsepower and 739 pound-feet of torque. If you feed it 100-octane fuel - and you really should - it'll produce 1,197 horsepower and 887 pound-feet of torque. The top speed is still listed as "225+ mph," and acceleration is simply ridiculous; the GTR1 will blister to 60 miles per hour in just 3.1 seconds and hit 100 mph in 6.8 seconds. Thanks to a set of carbon-ceramic brakes, that power can be bled off quickly, allowing the GTR1 to get from zero to 200 to zero in just 18.9 seconds. The factory quarter-mile time is 10.6 seconds at 152 miles per hour. Yes, we think it'll be worth every penny.

Part of the GTR1's athleticism is down to its low curb weight, which Galpin claims is around 3,000 pounds. Boasting a near-perfect 51/49 weight distribution and a power-to-weight ratio of 682 horsepower per ton, there's zero reason to expect this won't be a world-beater.

And while the metrics are hugely impressive, the overall look of the thing seems kind of derivative. It's clear that this car is based on the Ford GT, both inside and out. With hints of the Shelby GR-1 Concept in the body, and a cotton-candy blue interior, we aren't as crazy about the GTR1's aesthetics as we are its performance.

Still, the GTR1 will be as rare as it is expensive, all while boasting more power than the Ferrari LaFerrari, Porsche 918 Spyder and McLaren P1. We can't wait to see what it can do. Production is slated to start in early 2014.

Scroll down for the official press release.


GALPIN DEBUTS ITS FIRST COACH-BUILT SUPERCAR IN MONTEREY

* The Galpin Ford GTR1 is a vision of what the Ford GT may have looked and performed like today had Ford continued its evolution

* Prototype revealed in Monterey, Calif. at The Quail and on the Concept Lawn of Pebble Beach Concours d'Elegance

* Powered by twin-turbocharged 5.4L V8 rated at 1024 horsepower, 739 pound-feet of torque

Los Angeles, Calif. (August 16, 2013) - Galpin Auto Sports (GAS) debuted its first coach-built supercar, the Galpin Ford GTR1, on the Monterey peninsula with initial showings at The Quail: A Motorsports Gathering on August 16 as well as a display on the prestigious concept lawn of the Pebble Beach Concours d'Elegance on August 18.

Galpin Auto Sports 1024 horsepower Galpin Ford GTR1 debuted at the 2013 Pebble Beach Concours d'Elegance on August 18.
Image Credit: Galpin Auto Sports

The Galpin Ford GTR1 is a vision of what the Ford GT may have looked and performed like, had Ford continued its evolution. Once the design of the prototype was finalized late last year, a hand-formed all aluminum body was constructed by renowned concept car builder, Gaffoglio Family Metalcrafters, Inc., of Fountain Valley, Calif. - a process that in and of itself took more than 12,000 man hours to complete.

Underscoring its commitment to providing buyers with the ultimate custom coachwork experience, Galpin has worked with Metalcrafters to offer owners the choice of ordering their GTR1 in either a carbon fiber body or an aluminum body. In addition to its aluminum work, Metalcrafters has several decades of experience providing carbon fiber bodies for a number of established supercar manufacturers and world champion race teams.

Complementing the bespoke body created for the GTR1, Galpin equipped the car with a twin-turbocharged system specially tuned to produce 1024 horsepower and 739 pound feet of torque. With all that available power on hand, early estimates show the GTR1 is mechanically capable of speeds in excess of 225 mph, 0-60 mph in approximately three seconds and 0-100 mph in the mid-six second range.

Galpin also commissioned the design of a special set of brakes for the limited production run to assure the car could safely slow from such extreme speeds. Normally found on the F22 fighter jet, Boeing 787 Dreamliner and Formula One racing cars, a special set of carbon-carbon brake rotors were crafted and paired with Brembo six-piston calipers. The decision to use carbon-carbon rotors was made because of carbon-carbon's superior resistance to fade even under the most rapid deceleration from high speeds and the material's reduction in unsprung weight.

In addition to its twin-turbocharged V8, bespoke body and brakes, the GTR1 also features specially made 20-inch forged aluminum knock-off wheels shod with Pirelli P Zero Rosso tires, jeweled headlamps, tail lamps and select carbon fiber exterior accents.

Inside, owners will find a machined aluminum instrument cluster, McIntosh sound system and equally exquisite hand fabricated leather trimmed seats, dash, door panels and headliner all available in the buyer's preferred color and stitching.

In fact, the leather used for the interior was sourced from Bridge of Weir, a specialty Scottish leatherworks that for the past 100 years has provided material for some of the most exclusive luxury automotive applications the world over. For this GTR1 in particular, a gorgeous blue Sateen Marine leather was selected that makes use of a special recycled chromium process reducing the environmental impact of leather processing. In total, roughly eight hides were needed to complete all the leather appointments in the vehicle; each selected from free range cattle that graze at altitudes in excess of 4,000 feet to reduce potential blemishes to the finished surfaces that would ordinarily come from barbed wire and insect bites.

"For more than 60 years Galpin has placed the utmost importance on the craftsmanship and performance of each of the cars we build," said Beau Boeckmann, President of Galpin Auto Sports. "I'm incredibly proud to share our interpretation of one of the most iconic automotive designs of the twenty first century."

Production for the GTR1 will be extremely limited. Galpin anticipates an initial build of just six vehicles and a maximum of 24 units created with an initial price of just over one million dollars. For interested buyers outside the U.S., Galpin will facilitate international shipment and delivery as needed.

Orders for Galpin's supercar are being taken immediately with full-scale production scheduled for early 2014. For additional information on the Galpin Ford GTR1, please inquire with Galpin Ford GTR1 Sales Manager, Stuart McIntosh at (818) 922-3683 or via email at GTR1@Galpin.com



About Galpin Motors

Galpin Motors, home to the world's largest volume Ford dealership for the 23rd consecutive year, was founded in 1946 and is headquartered in Los Angeles' San Fernando Valley. Galpin is comprised of a family of quality automobile brands that include Ford, Lincoln, Honda, Mazda, Subaru, Volkswagen, Volvo, Jaguar, Lotus and Aston Martin. For additional information on Galpin Motors and Galpin Auto Sports, contact Marketing Manager Jeff Skobin at 818-778-2540/Jeff@Galpin.com, visit the dealership at 15505 Roscoe Blvd., North Hills, Calif. 91343, like on Facebook at Facebook.com/GalpinMotors or visit Galpin.com.

About Galpin Auto Sports

Galpin Auto Sports, located at 15600 Roscoe Blvd. in Van Nuys offers customizing and personalizing services on all new and pre-owned vehicles, including collector and classic cars. For more information on Galpin Auto Sports' unique products and services, please contact GAS Marketing Manager, Jeff Skobin (jeff@Galpin.com), at (818-778-2540, like on Facebook at Facebook.com/GalpinAutoSports and Twitter @GalpinAutoSport or visit the website at GalpinAutoSports.com.



# # #

GALPIN FORD GTR1 AT A GLANCE

PRICE AND PRODUCTION

Price (Turnkey Car Spec'd as Below)



$1,024,000.00 For Carbon Fiber Body Construction
Price Contingent on Individual Order and Additional Optional Specifications, Including Aluminum Bodywork

Production



Initial Desired Build of 6 Examples, Maximum of 24 Examples

MECHANICAL

Drivetrain



Engine

Mid-Mounted Twin-Turbocharged and Intercooled DOHC 32 Valve V-8



Displacement (cu in/cc)

330/5409



Power, hp
91 Octane (100 Octane)

1024 (1197)



Torque, lb-ft
91 Octane (100 Octane)

739 (887)



Engine Boost
91 Octane (100 Octane)

18 lbs. (22lbs.)



Engine Management

Heffner Engine Calibration



Redline

7,200 rpm



Power to Weight Ratio

682 bhp/ton



Drive Type

Rear Wheel Drive



Transmission

A Six-Speed Ricardo Transaxle with Twin-Disc Clutch



Differential

Helical Limited Slip



Gear Ratios : 1


2.61

First Gear

1.71

Second Gear

1.23

Third Gear

.94

Fourth Gear

.77

Fifth Gear

.63

Sixth Gear



Axle Ratio : 1

3.36



Performance



Top Speed

225+ mph*



0 - 60 mph

3.1 seconds*



0 - 100 mph

6.8 seconds*



0 - 200 - 0 mph

18.9 seconds*



1/4 Mile Time

10.60 seconds at 152 mph*





*Mechanical Estimate Based Upon Current Gearing



Suspension



Front

Upper A-Arms and Lower L-Arms
Coil-Over Springs and Shocks



Rear

Upper A-Arms and Lower L-Arms
Coil-Over Springs and Shocks

Brakes



Front

16.625-Inch Carbon-Carbon Rotor and Six Piston Brembo Caliper



Rear

14-Inch Carbon-Carbon Rotor and Four Piston Brembo Caliper

Wheels and Tires



Front

20x10.5-Inch Two Piece Forged Aluminum Knock-Off Wheels
265/30ZR20 Pirelli P-Zero Rosso



Rear

20x13.5-Inch Two Piece Forged Aluminum Knock-Off Wheels
335/30ZR20 Pirelli P-Zero Rosso

DIMENSIONS

Exterior



Overall Length (Inches)

185.50



Overall Height (Inches)

45.00



Overall Width (Inches)

82.75



Wheelbase (Inches)

106.70

Interior



Headroom (Inches)

36.40



Legroom (Inches)

44.60



Shoulder Room (Inches)

57.70



Hip Room (Inches)

57.80

Weights

Curb Weight (Pounds)

Approximately 3,000 lbs.

Weight Distribution (%) (Front/Rear)

Approximately 51/49
---
By Brandon Turkus
---
See also: Next Ford Mustang to drop 400 pounds, Ford F-150 Tremor to pace NASCAR Truck Series this weekend, Ford Australia debuts Ranger-based Everest SUV concept.