Ford vandalizes the SEMA Show floor with 2014 Transit Connect
Tue, 05 Nov 2013 15:19:00 EST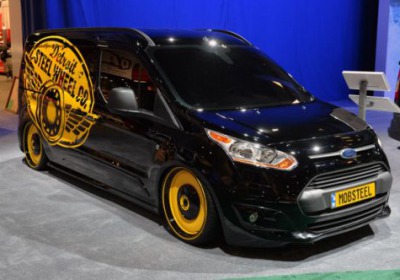 The Ford booth here at SEMA is practically a 1970s throwback with all these customized vans sitting front and center. And we're completely fine with that. Take the black and yellow (black and yellow, black and yellow) 2014 Transit Connect from Mobsteel above. It's got a great stance, sits on steel wheels and has a pretty cool paint job and graphics package to boot.

Of course, that's not the only van you can see at the Ford booth. In fact, there are 10 Transit Connect vans on display from Ford here at SEMA, and you can see them all in our live gallery of high-res images above. Then, if you want to know more about each specific model, feel free to scroll down to read all about these vans in the official press release from Ford.

VANDEMONIUM IN VEGAS! FORD PREPARES TO UNLEASH 10 CUSTOM TRANSIT CONNECT VEHICLES AT

Ford shows off the all-new and versatile 2014 Transit Connect with 10 customized van and wagon models for the annual SEMA show in Las Vegas
Custom builders will present a variety of ideas, from a mobile upscale clothing boutique to an on-the-go hot rod repair shop
Ford, a leader in the large passenger vehicle segment with Transit Connect since 2009, plans to launch an all-new Transit Connect Wagon and Transit Connect cargo van early next year
Ford's all-new Transit Connect Wagon and Transit Connect cargo van will roar into the Specialty Equipment Market Association's annual show with 10 custom-modified versions at the Las Vegas Convention Center Nov. 5-8.

The industry's top aftermarket custom builders transformed six Transit Connect vans and four wagons, expressing their creativity through elaborate interior reconstructions, blazing graphics and eye-catching exteriors. This reimagining of Transit Connect showcases the lineup's versatility and creative potential – especially for commercial use.

Ford Transit Connect, named International Van of the Year 2014, has been a smart choice for small business owners since it launched in North America in 2009. The compact van earned the 2010 North American Truck of the Year title, adding to its global reputation for durability and toughness that dates back to its launch in Europe in 2003.

As Ford launches the newest version of Transit Connect, two distinct models will be offered – the traditional, hard-working cargo van, a panel-side hauler; and an all-new wagon model, a stylish, spacious and fuel-efficient people mover. Transit Connect Wagon features sliding doors and flexible, fold-flat seating for up to seven passengers.

For SEMA 2013, Ford challenged aftermarket customizers to show how the 2014 Transit Connect could take families and businesses further by imagining what is possible. The builders responded, with wild designs, cool custom features and over-the-top ideas.

Meet the stars of Vandemonium
Blood & Grease transformed a Transit Connect cargo van into a high-end fashion boutique on four wheels
CGS Motorsports created a mobile speed shop for the drag strip
eJudged repurposed a Transit Connect into a stylish mobile hot spot, loaded with technology for the road
Impulse Marketing & Media looks back to a simpler time; it transformed a Transit Connect cargo van into a baked goods delivery vehicle
K-Daddyz Kustomz created a mobile workplace for graphic design
LGE*CTS Motorsports turned a Transit Connect Wagon into a Cross Country cruiser complete with top-of-the-line technology
Mobsteel created the ultimate mobile billboard – a chopped and lowered Transit Connect cargo van promoting what Detroit Steel Wheel Company does best
Pentech Automotive turned a Transit Connect Wagon into a vehicle gamers can take on the road
Strange Motion designed a Transit Connect Wagon especially for its BMX team, with room to haul six bikes and six people
And there's more to come. Stay tuned for details on a yet-to-be-unveiled 10th customized Ford Transit Connect that will be on display at SEMA next month.

To see the full Vandemonium family, visit the #FordSEMA Dreamcase here: http://ford.to/1cwVX6y.
---
By Jeremy Korzeniewski
---
See also: J Mays retiring from Ford design, succeeded by Moray Callum, Ford pits Cobra Jet versus GRC Fiesta ST, worlds collide, Shelby GT500 laps N"urburgring in under 7:40?.