Chinese patent filing shows what could be next Royal Limo from Jaguar
Fri, 10 May 2013 16:27:00 EST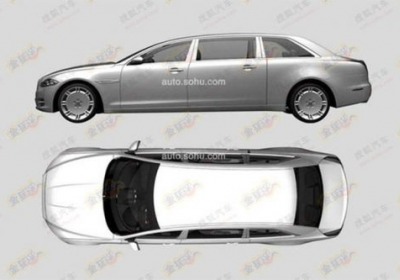 Someone filed a patent application in China for the Jaguar XJ limousine seen above, but no one's sure who filed it or what the car is for. One camp thinks it's a State limo for UK royals like the Bentley State Limousine, another camp thinks it's the work of aftermarket coachbuilders.

One thing's for sure: Assuming it ever gets made, anyone who buys it wants an XJ in name only; the modifications have removed almost all of the grace of the standard sedan. Estimated to be more than three feet longer than an XJ, the stretched rear doors are backed by an even more stretched rear section that, in losing the trademark XJ C-pillar (the D-pillar on this car), adds all sorts of ungainliness to its backside. What's more, the roof rises from front to rear, we can only assume to make room for people with large hats. Or the NBA player that the Chinese call "Sweet Melon."

Head over to AutoSohu for more photos from the application, if you're sure that's what you really want.
---
By Jonathon Ramsey
---
See also: 2013 Jaguar XF 2.0T, Jaguar F-Type Coupe spotted testing, New Jaguar crossover to be called 'XQ'?.