2014 Volkswagen GTI to start a new hot hatch era in Geneva
Tue, 26 Feb 2013 18:00:00 EST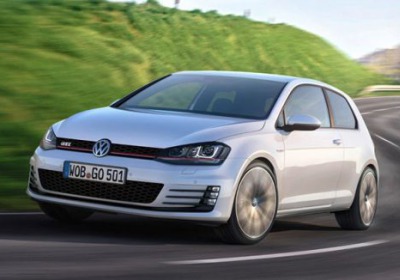 The upcoming Geneva Motor Show is going to be stocked with important new production models and sexy concept cars, but hot hatch enthusiasts will undoubtedly see it as the coming out party of the MkVII Volkswagen GTI. And while we've only got European specifications and pricing to go on for now, we can tell from the get-go that the new GTI will be a proper heir to VW's hot hatch legacy.

This seventh-generation GTI is powered by a turbocharged, direct-injection 2.0-liter four-cylinder engine, which makes 220 horsepower and 258 pound-feet of torque in base form. For the first time ever, Volkswagen is also offering a performance pack for the GTI as well, which ups the horsepower to 230 (torque remains unchanged). With a slightly lower curb weight to push around – the new base car weighs 2,978 pounds versus 3,034 for the current three-door GTI – 0-62 miles per hour is now achieved in 6.5 seconds, and top speed is 153 mph. (Cars with the performance pack offer 0-62 mph in 6.4 seconds, and a 155-mph top speed.) Buyers my choose between a six-speed manual transmission or an optional six-speed DSG unit.

Visually, the new GTI has obviously adopted the slant-nosed looks of the MkVII Golf, though with plenty of added drama. The exterior is dominated by the 17-inch "Brooklyn" wheels wearing 225-section rubber, and the aggressive front fascia gets black honeycombed inserts in the upper and lower grille sections. At launch, Volkswagen will offer the GTI in three colors: the Pure White seen here, Tornado Red and Black. Tartan patterned seats are of course still an option for the interior, while the GTI-specific steering wheel and shift knob are standard.

The new car is set to go on sale in Europe in May of this year, with an asking price of 28,350 euros to start. North American timing and pricing are still up in the air, however. There's a bit more information about the 2014 Volkswagen GTI in the press release below for your perusal. Expect plenty more in the way of information and images when we see the car live at Geneva, too.

VOLKSWAGEN DEBUTS NEW GTI AT THE GENEVA AUTO SHOW

- Available with two levels of power for the first time: standard 220 horsepower or 230 hp with performance pack (European model)

- Offers 18 per cent improvement in fuel economy compared to previous GTI

- On sale in Europe starting in May, 2013

Wolfsburg, 27th February 2013 – Following tradition, Volkswagen will introduce the latest version of the Golf GTI at the Geneva International Motor Show. For the first time, the iconic hot hatch is available at launch with two power levels: 220 horsepower; or 230 hp with the optional performance pack.

The new GTI is powered by a turbocharged direct-injection gasoline engine (TSI®) that makes 220 hp and 258 pound-feet of torque in standard form. Volkswagen is offering a factory- installed performance pack for the first time, which boosts power to 230 hp. Both versions are equipped with a Stop-Start system, fulfill the EU-6 emissions standard that takes effect in 2014, and attain the same excellent DIN gas mileage figure of 39.2 mpg-which equates to 139 g/km of CO2-when equipped with the six-speed manual transmission. This means that the new GTI offers an 18 percent improvement in fuel economy compared to the previous model. With the optional six-speed DSG® dual-clutch automatic transmission, the 220- and 230-hp GTIs return 36.8 and 36.2 mpg respectively (equivalent to 148 and 150 g/km CO2).

The sporty nature of the Golf GTI is reflected in its red-painted brake calipers, twin chrome tailpipes, and a lowered sport suspension. The exterior of the compact hatchback also scores with 17-inch "Brooklyn" GTI wheels and 225/45 tires, special side skirts, a rear diffuser, and smoked LED taillights with LED license-plate illumination.
---
By Seyth Miersma
---
See also: Volkswagen planning Up! hybrid model using XL1 powertrain, Volkswagen's 261-mpg hand-built XL1 headed for Geneva, Volkswagen debuts MkVII-based diesel Golf GTD.