2013 Lincoln MKZ [w/video]
Fri, 07 Dec 2012 11:57:00 EST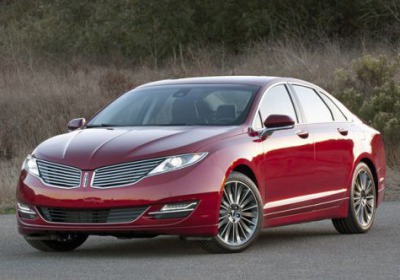 Rebranding When Reinvention Is Requisite

Lincoln – pardon us, the Lincoln Motor Company – assures us that Ford is committed to its success. The awkwardness of the statement (which feels vaguely like your mother telling you that she loves and supports you regardless of what everyone else thinks) was hard to escape when we recently spent a few days with the all-new second-generation 2013 Lincoln MKZ.

Launched earlier this year at the 2012 New York Auto Show, the MKZ is a midsize premium sedan that shares platforms with the Ford Fusion (also all-new for 2013). The sedan's primary competitors, according to Lincoln, include the Audi A6, BMW 5 Series, Cadillac CTS and Lexus ES Series sedans – each an established, accomplished player.

But Lincoln sees opportunity in the segment. They feel that today's customers, with values shaped by the recession, are open to new brands and experiences. Shoppers are seeking unique products and experiences (e.g., a more intimate dealer relationship) to substantiate the additional cost of a premium vehicle. With Ford firmly supporting its back, Lincoln is betting its future on product design, quality and an improved ownership experience.

The 2013 Lincoln MKZ is a real looker, especially when compared to its bland predecessor (launched as the Lincoln Zephyr for the 2006 model year, but renamed the MKZ after a refresh for 2007). The new sedan is sleek – almost futuristic – with distinctive styling that includes a sweeping roofline, taillamps that stretch across the rear façade, a new interpretation of Lincoln's split wing grille and fresh LED illumination. Overall, the look is clean and memorable. Even the "baleen" grille (our word, not theirs), which saw us raising our eyebrows on other Lincoln models, integrates surprisingly well here.


Similarities between the MKZ and Fusion are mostly hidden from view.
Even though they share mechanicals, the similarities between the MKZ and Fusion are mostly hidden from view. The wheelbase is the same (112.1 inches), but the Lincoln is 2.4 inches longer (194.1 inches), .1 inch taller (58.2 inches) and half an inch wider (73.4 inches, excluding mirrors) than its relative. Interestingly enough, it is longer than the A6, 5 Series, CTS and ES as well.

The interior is also noteworthy. Lincoln has ditched its characterless past and gone with a sweeping cockpit highlighted by a flowing instrument panel with a standard touchscreen display. While the primary instrument cluster retains its analog speedometer and tachometer, the traditional shifter and mechanical parking brake have been replaced with flush buttons and switches to allow increased storage. The look is spacious in appearance, pleasing to the eye and clean.

Powering the new Lincoln are three different engines and two drivelines.

Standard gasoline models are fitted with the automaker's turbocharged 2.0-liter EcoBoost four-cylinder, rated at 240 horsepower and 270 pound-feet of torque on 87 octane. The all-aluminum engine is mated to a six-speed 6F-35 automatic transmission. The more powerful engine is a naturally aspirated 3.7-liter six-cylinder developing 300 horsepower and 277 pound-feet of torque (also on regular unleaded), mated to Ford's beefier 6F-50 six-speed automatic transmission. In the Sunshine Belt, most MKZ models will be front-wheel-drive, but all-wheel drive is a wise option for those in more challenging climates.


The more powerful engine is a naturally aspirated 3.7-liter six-cylinder developing 300 hp and 277 lb-ft.
As it has in the past, the automaker is also offering an MKZ Hybrid. Under its hood is a 2.0-liter Atkinson-cycle four-cylinder, rated at 141 horsepower, supplemented by a 47-horsepower electric traction motor utilizing a lithium ion battery for storage (total system power is 188 horsepower). A continuously variable transmission is standard on the front-wheel-drive eco-friendly model.

Underpinning the new Lincoln is a standard Continuously Controlled Damping (CCD) suspension system with MacPherson struts and aluminum control arms up front and a multi-link configuration in the rear, while the steering is electric power assisted (EPAS). There are standard 12.4-inch disc brakes (single-piston sliding calipers) at all four corners hidden beneath 18-inch aluminum wheels wrapped in 245/45R18 tires (19-inch alloys are optional). The curb weight of the standard model (FWD 2.0) is 3,719 pounds, with the range-topping V6 (AWD 3.7) coming in at 4,002 pounds. Two tons is about average for the segment when fitted with AWD.

In terms of fuel efficiency, the MKZ 2.0 FWD earns 22 mpg city and 33 mpg highway, and the MKZ 3.7 is rated at 18 mpg city and 26 mpg highway (the MKZ Hybrid is rated at 45 mpg, in both the city and highway cycle). Those figures are significantly better than its predecessor, but the six-cylinder consumes more fuel than its competition.


The grand total, including Lincoln's $875 destination charge, was $49,090.
In lieu of a traditional launch, where journalists are usually brought to a manufacturer-sponsored event for PowerPoint presentations, product demonstrations and prescribed driving routes, Lincoln cut to the chase and lent us a range-topping MKZ 3.7 AWD for a couple days. While it was nice to drive the luxury sedan on our own turf, we missed the traditional data dump and torrent of product information as it is excellent insight.

Nevertheless, our Ruby Red over Charcoal MKZ seemed attractive enough to speak for itself. In its premium form, it wore a $39,045 base price (the MKZ 2.0 FWD starts at $35,925 and the MKZ 3.7 FWD starts at $37,155). In addition to standard full power accessories, LED headlamps, remote start and Active Noise Control (ANC), added to its bottom line was the Preferred Equipment Group 103A (19-inch alloys, heated steering wheel, THX Premium Audio, premium floor mats, heated rear seats, etc.) bundled with a massive single-panel glass moonroof for $6,530, the Technology package (adaptive cruise control, active park assist, lane keeping system, auto high beams, etc...) for $2,250, aluminum trim package (alloy accents on the doors, instrument panel and a leather-trimmed steering wheel) for $195 and rear inflatable seatbelts for another $195. The grand total, including Lincoln's $875 destination charge, was $49,090.


The matte screen was covered in fingerprints and its angle only made the greasy marks more visible.
It's best to take a few minutes to familiarize oneself with the MKZ before firing it up, as its ergonomics and infotainment system are not only unique, but worthy of a closer look.

The standard infotainment suite includes MyLincoln Touch (the luxury brand's version of MyFord Touch), a full-featured package of communications and entertainment with voice-operated command, Bluetooth streaming and a cloud-based network of SYNC services. Voice input aside, the primary user interface is the console-mounted eight-inch touchscreen (navigation, climate control and vehicle settings may also be configured through the touchscreen – and information can be displayed simultaneously in quadrants). In use, Bluetooth phone setup was easy and intuitive, but we still find touchscreen displays finicky, as they generally deliver slower responses when compared to traditional buttons. Plus, and this seems to be an ongoing complaint, the MKZ's matte screen was covered in fingerprints after a day's use, and its angle (facing upward into the ambient light without a hood) only made the greasy marks more visible.

Immediately below the center display is a CD slot, followed by a touch-sensitive chrome volume bar, secondary left and right climate control inputs, a touch-sensitive chrome fan speed bar and additional climate controls. All are flush and back-lit, meaning they are invisible until powered. The innovative switchgear was easy to use, but round knobs still remain more intuitive and ergonomic (and they don't require the driver taking eyes off the road to activate them).

The MyKey ignition is keyless with its start/stop switch at the top left corner of the center console (it's in the same place on the Buick Verano). The aforementioned transmission buttons (PRNDS) are arranged vertically below it in a very logical configuration. After a quick orientation, operating the transmission through its button panel became very natural, intuitive and easy.


The midsize MKZ is far from roomy aft of those front seats.
Lincoln Drive Control, best explained as electronically customized powertrain and vehicle dynamics, is also standard on every MKZ. In a nutshell, it allows the operator to configure EPAS, CCD and ANC to their personal preferences for easy access while driving. Once set (a process that takes about a minute), a simple press of the transmission's "D" or "S" mode button immediately reverts all three to their presets. Again, we found it worked really well and switching between Drive and Sport was no more than a convenient button's push away.

The front passengers will find the MKZ very comfortable. Even though the power-operated seats (controls located on the outboard sides of the lower cushion) are not heavily bolstered, they held occupants well during driving and seemed every bit as supportive after the hundredth mile as they did on the first. Rear seat passengers won't be grinning nearly as much, as the midsize MKZ is far from roomy aft of those front seats. Some adults felt it was even cramped – definitely not spacious (the Honda Accord and Volkswagen Passat are both nearly three inches shorter in overall length but their back seats are cavernous in comparison). The trunk is average in capacity, but its load mouth isn't very wide.

Those familiar with Ford's lineup will recognize the 3.7-liter V6 as the same engine stuffed in the nose of the Mustang and F-150 pickup. It does a decent job moving the two-plus-ton MKZ off the line with authority, but we found the six-speed automatic was caught off guard more than once when we asked for immediate power. Like most cars these days, the gearbox is chasing fuel economy so it takes a bit of coaxing to drop it into lower gears to induce thrust. There are paddles on the steering wheel (downshift on the left, and upshift on the right), but we never felt the urge to use them.


The maximum performance summer tires – a Lincoln first – worked well with the MKZ's active dampers to keep the four-door stuck to the pavement.
Handling was significantly better than expected. Much of the credit goes to our test vehicle's 40-series Michelin Pilot Super Sport tires. The maximum performance summer tires – a Lincoln first – worked well with the MKZ's active dampers to keep the four-door stuck to the pavement even in semi-aggressive cornering. We liked the Lincoln Drive Control's Sport mode the best of the three choices (Sport, Normal and Comfort) as the other two settings were comparatively soft and sluggish. And yes, there is a noticable difference between each.

The brakes seemed strong for a street car, but steering feel was numb and missing feedback. The overall driving experience was pleasant, yet the MKZ lacked the engagement quotient common to the segment's best sport sedans (we didn't look for excuses to jump behind the wheel).

Lincoln has gone to extreme lengths to ensure the interior of its new MKZ was as serene as a monastery's meditation room. In addition to active noise cancelling (think of it as Bose QuietComfort headsets for the whole cabin), there is acoustic insulation in every nook and cranny and oversize engine mounts to limit the noise, vibration and harshness levels in the cabin. The engineering team's hard work paid off, as the sedan is impressively quiet at speed with only a subtle amount of wind noise from the mirrors.

Yet the serene confines seemed to work against the new sedan, as it encouraged us to evaluate the reinvented Lincoln Motor Company and weigh the MKZ against its established competition – keeping in mind that prospective owners will judge the product, not the quality or ownership experience, on a test drive.


What would the underappreciated RWD Lincoln LS have matured into today had it been celebrating its 13th year of production?
Our conclusion, after taking the Audi A6, BMW 5 Series, Cadillac CTS and Lexus ES into consideration, is that the 2013 MKZ falls short. While we found many things to like (its styling and cabin isolation are at the top of our favorites), there are significant compromises (second row comfort, small trunk, ergonomic gripes and a thirsty V6 to name a few) keeping it off our most-wanted list. Even though it may be the most stylish Lincoln we've ever driven, it is far from extraordinary.

Lincoln doesn't want anyone to think of its newest offering as a redesigned Ford Fusion with boosted luxury appointments and a $15,000 price premium, but the reality remains hard to ignore. A sinking feeling in our stomachs tells us this MKZ is still not distinct enough to buoy the luxury brand. In fact, the whole experience left us wondering... what would the underappreciated rear-wheel-drive Lincoln LS have matured into today had it been celebrating its 13th year of production?


Vital Stats
Engine:

3.7L V6

Power:

300 HP / 277 LB-FT

Transmission:

6-Speed Auto

0-60 Time:

6.7 Seconds (Est.)

Drivetrain:

All-Wheel Drive

Curb Weight:

4,002 LBS

Seating:

2+3

MPG:

18 City / 26 HWY

MSRP:

$37,155 (base)

Research the 2013 Lincoln MKZ »
---
By Michael Harley
---
See also: RWD Lincolns are coming, fate depends partly on MKZ success, Submit your questions for Autoblog Podcast #311 LIVE, Lincoln and MKZ propose brand reinvention.