Why Buick's Encore wasn't a Chevy
Wed, 31 Oct 2012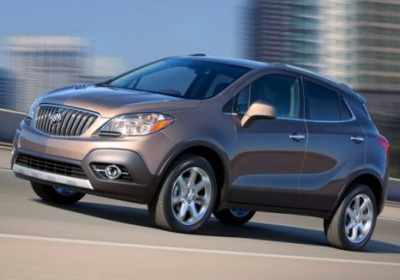 Buick is taking a gamble with its 2013 Encore. General Motors' near-luxury brand has enjoyed great success attracting conquest buyers to its larger Enclave crossover, but it has never offered something quite like this small CUV.

Very early signs suggest that the gamble might be working. According to Mark Reuss, President of General Motors, the automaker expected about 1,500 initial orders from its dealers for the Encore, but it's tracking closer to 9,000 units. Alluding to the fact that historically, Buick has shared similar products with GM's other brands, Reuss says that Buick dealers are "thrilled to have an exclusive." The automaker already markets almost identical models in other markets as the Opel/Vauxhall Mokka and Chevrolet Trax, but The General's other brands won't offer a twin to the new baby Buick.

The new Encore is based on the Gamma architecture that underpins the Chevrolet Sonic, and it shares the economy car's available turbocharged 1.4-liter four-cylinder engine. With standard front-wheel drive and available all-wheel drive, GM says its Encore will be pitted against competitors like the BMW X1 and Audi Q3, both of which are much more expensive but also much more powerful.


Some industry watchers – including members of Autoblog – have openly wondered whether the Encore is a good fit for Buick, as GM has been steadily working to turn the brand into a more premium marque to tackle the likes of Acura and Lexus. Those same pundits have suggested that the Encore's small size and limited power would perhaps play better under the Chevrolet banner, especially as there would appear to be enough white space below Bowtie's very popular Equinox CUV. Autoblog approached Reuss with this notion at a media roundtable today, and the executive bristled, stating categorically that the Trax "would have never worked" in the US because of financial and packaging reasons, not to mention the fact that the model doesn't wear Chevrolet's new design language (as seen in the 2014 Impala).

Certainly, GM will be able to ask more money for the Encore with a Buick Tri-Shield badge on its nose than it would with a Chevrolet emblem – the range will start at $24,950 when it launches in the first quarter of 2013 – and strong early orders suggest that the automaker may indeed have the last laugh.
---
By Chris Paukert
---
See also: 2013 Buick Enclave, Opel Cascada is Europe's Buick convertible [w/video], GM recalling 250,000 SUVs over door electronics.