Volkswagen breaks 40-year-old sales record in 2012
Sun, 13 Jan 2013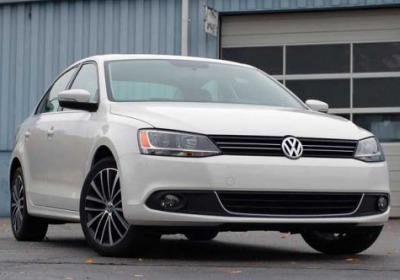 The last time Volkswagen moved this many vehicles in America in one year, Richard Nixon was still a President in good standing, Let It Be was a radio hit and each car wearing the VW badge boasted an air-cooled engine. That's right, with a grand total of 580,286 vehicles sold in the US last year, the VW Group has broken its own four-decades-old sales record by 2,899 vehicles.

Of that 580k total sold, 438k were Volkswagens and 139k were Audi products – increases of 35.1 percent and 18.5 percent, respectively, in year-over-year sales. The ultra-premium members of the VW group also fared well; Bentley delivered 2,315 vehicles for a 23.3-precent increase, and Lamborghini delivered 520 units for a 52.9-percent jump. Bugatti, we're told is "right on track."

Jetta (pictured) sales paced the marque with 170k models sold, and Passat also finished very strong with sales of 117k total. Tiguan also racked up its best year on file, with 31,731 models shifted.

The company expects what it is calling "moderate growth" for the 2013 sales year ahead, though perhaps not at so blistering a rate as it racked up in 2012. Scroll down to read the official Volkswagen press release.

VOLKSWAGEN GROUP OF AMERICA ACHIEVES SALES OF 580,286 VEHICLES IN 2012
-Marks the best year in organization's history-

• Group ends year with sales up by 30.6 percent, beating the previous sales record from 1970 by 2,899 vehicles
• Volkswagen brand delivered 438,133 units, a 35.1 percent increase
• Audi delivered an all-time record of 139,310 vehicles, a 18.5 percent increase
• Bentley delivered 2,315 vehicles for the year, an increase of 23.3 percent
• Lamborghini delivered 520 vehicles in 2013, an increase of 52.9 percent, and Bugatti is right on track

HERNDON, Va. (January 13, 2013) - Volkswagen Group of America, Inc. (VWGoA) closed out its record-breaking 2012 with sales of more than 580,200 units, making 2012 the best year in the organization's U.S. sales history. The Volkswagen Group's previous sales record was set in 1970, when the organization delivered 577,387 units in the U.S. market. The market share of VWGoA was 4.0 in 2012, up 0.6 from 2011.


"Our employees and our dealer and supplier partners have worked very hard to establish foundations for success in the U.S. market, and they deserve so much credit for setting this new record," said Jonathan Browning, President and CEO, Volkswagen Group of America, Inc. "We are pleased to see all of our brands contributing to growth and setting this new landmark".

The Volkswagen brand had its best year since 1973, selling 438,133 vehicles. Volkswagen saw great success with models across the portfolio. Since 2009, the Volkswagen brand has increased sales by 105 percent. The Chattanooga-built Passat sold 117,023 units, its best year ever. The company's volume-leading Jetta sold 170,424 vehicles. 2012 also marked the best year ever for the Tiguan, which sold 31,731 vehicles for the year, an increase of 22.1 percent.

The Audi brand continued its momentum with its best year ever, delivering 139,310 vehicles. Since 2009, the brand has increased sales by 68 percent. Audi ended the year with its 24th consecutive month of record sales, and December 2012 was the best month ever since Audi began selling cars in the U.S. market in 1970. Never before had Audi sold more than 13,000 vehicles in a month, but in December 2012, the brand delivered 14,841.

The luxury brands of the Volkswagen Group of America also saw significant gains in 2012. Bentley delivered 2,315 vehicles for the year. In 2013, Bentley Motors of the Americas will be moving its U.S. headquarters from Boston to Herndon, Va., joining Volkswagen of America, Audi of America, Lamborghini and VW Credit, Inc.

Bugatti, the epitome of exclusivity and performance, had a successful 2012. Lamborghini ended the year with growth of more than 50 percent.

In addition to a successful year in sales, in 2012 the Volkswagen Group of America continued to lay foundations for growth. The year saw the opening of a new $27 million technical center in Oxnard, Calif., as well as the groundbreaking of a parts distribution center in Roane County, Tenn. and the expansion of the company's financial services arm, VCI, Inc., in Libertyville, Ill. Both will open in 2013. In January 2013, one of the largest solar parks in Tennessee will open on the Volkswagen Chattanooga site, providing 9.5 megawatts, up to 12.5 percent of the 2 million-square-foot plant's power.

The aim for Volkswagen Group of America 2013 is to continue to build on those fundamentals that allow sustainable and profitable growth. Volkswagen Group of America expects to see moderate growth in 2013 while still outpacing the industry.

About Volkswagen Group of America, Inc.
Volkswagen Group of America, Inc. is a wholly owned subsidiary of Volkswagen AG, one of the world's leading automobile manufacturers and the largest carmaker in Europe. It operates a manufacturing plant in Chattanooga, Tennessee and houses the U.S. operations of a worldwide family of distinguished and exciting brands including Audi, Bentley, Bugatti, Lamborghini and Volkswagen, as well as VW Credit, Inc. Founded in 1955, the company's headquarters are in Herndon, Va., and Volkswagen Group of America brings to the U.S. vehicles that marry the science of engineering and the art of styling, with the goal of offering attractive, safe, and environmentally sound automobiles that are competitive and set world standards in their respective classes. The company has approximately 5,900 employees in the United States and sells its vehicles through a 960-strong dealer network.
---
By Seyth Miersma
---
See also: Bugatti transmission order means Veyron may last well into 2014, Audi replaces Mercedes as official vehicle supplier to the IOC, Volkswagen adding R-Line trim to Touareg, Tiguan for 2014.