The Homer to contest 24 Hours of LeMons
Thu, 27 Jun 2013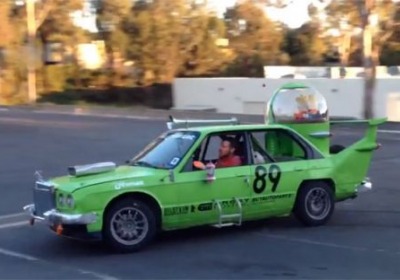 It's finally happened. A 24 Hours of LeMons team has built the definitive interpretation of The Homer from The Simpsons for competition in an upcoming race. As you may recollect, The Homer is the fictional car designed by Homer Simpson for his brother's car company. Designed with a separate compartment for screaming children and other Homer-centric goodies, the animated machine bankrupted its parent company and put Homer's brother out of a job. Now we get to watch it race other crap cans as it tackles Southern California's Buttonwillow Raceway on June 29. Scott Chamberlain, Kris Linquist, Reid Conti, Ben Reilly and Mike Yepes will helm the machine, and Jeff Herman serves as the team's creative director.


The racer is the latest incarnation of a well-abused BMW 3 Series. The team campaigned the same E30 under the "Prickstine" banner as a Chrysler Imperial tribute and "Porcubimmer," the latter being a riff on the ever-popular joke about the difference between porcupines and BMW models. Never gets old. You can check out a video of the finished Homer below, and be sure to like the team on Facebook to see updates from the race. Now, about that Canyonero...



---
By Zach Bowman
---
See also: 2014 BMW 4 Series convertible spotted, 2014 BMW X5 priced from $53,725*, Company car offers in decline, but not at The Cheesecake Factory [w/poll].