2014 BMW 4 Series convertible spotted
Thu, 27 Jun 2013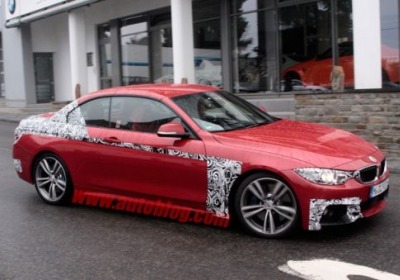 We've seen a few spy shot packages featuring the upcoming BMW 4 Series Convertible already, but never with the car quite so naked as in this latest batch. Nabbed just outside the BMW Nürburgring workshop in Germany, this Melbourne Red 4 Series also shows the M Sport package for the first time.


With all of the cladding removed, we can see that the convertible shares the 4 Series coupe's great-looking nose and front end, though the resolution of that folding hard top into the rear bodywork remains a bit harsh.

With the 4 Series coupe now completely official, we have a pretty good idea of what the powertrain lineup for the 'vert will be. We'll be pretty surprised if a 2.0-liter turbocharged four-cylinder and a 3.0-liter six-cylinder turbo aren't the go-to engines at launch. Production of the droptop is likely to begin at the end of the year, so start bugging your local BMW dealer.
---
By Seyth Miersma
---
See also: 2014 BMW X5 priced from $53,725*, Company car offers in decline, but not at The Cheesecake Factory [w/poll], BMW V8-powered Ford Model A is the definition of Hot Rod.