See what the Chevy C7 ZR1 may be benchmarked against
Tue, 07 May 2013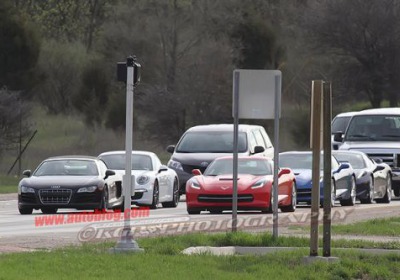 One of the greatest things every Corvette has had going for it, and also one of the most re-used arguments against it, is its price-to-performance equation - long before the Nissan GT-R became the de facto Porsche 911 comparator the Corvette spent decades as Exhibit A. Depending on which side of the argument you stressed, supporters crowed about how much performance you got for how (comparatively) little, detractors carped on how little you got everywhere else in the bargain.


It appears Chevrolet is working as hard as ever to render the argument meaningless. Spy shooters at KGP captured a convocation of European birds of prey leaving the General Motors test center, and aimed at benchmarking the C7 Corvette ZR1. The road train comprised of two C7 Corvette Stingrays, a 2013 Corvette ZR1, McLaren MP4-12C, Ferrari 458 Italia, Audi R8 V10 Spyder and Porsche 911 Carrera S and it was last seen heading down the same kinked-up back roads used to hone the Corvette Stingray.

The C7-series ZR1 and its possible 700 horsepower are still a ways off. If it really is being positioned to compete with the celestial exotica in the testing group, could it be the first Corvette to regularly be the first answer to the question "Cost no object, which would would you rather have?"
---
By Jonathon Ramsey
---
See also: Watch Edo Competition pit a Ferrari FXX against a Maserati MC12 Corsa on the 'Ring, 'Born of a Blue Sky' brings the Amelia Island Concours to you, 2014 Porsche 911 Turbo and Turbo S debut [w/video].