Watch Edo Competition pit a Ferrari FXX against a Maserati MC12 Corsa on the 'Ring
Fri, 03 May 2013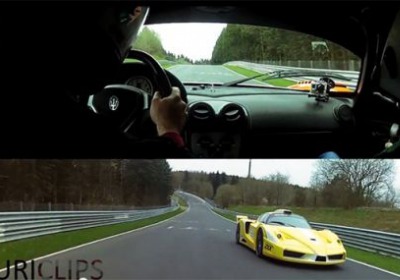 High-zoot supercar tour organizer Gran Turismo Events held its annual Nürburgring track day last month, and in addition to the amateur punters the gates were opened to two tuned supercars from Edo Competition: A Maserati MC12 Corsa and a Ferrari Enzo ZXX. The ZXX, in case you've forgotten, is the same love child of Edo Competition and Zahir Rana's ZR Exotics that belly flopped into the Atlantic during the 2011 Targa Newfoundland.

We get a trip around the Nordschleife with both cars during a no-doubt quick but not insane lap, on board with driver Patrick Simon in the 755-horsepower MC12 and 'Ring queen Sabine Schmitz following in the 840-hp ZXX.


That should be all the build-up you need when the action's in the video below.




---
By Jonathon Ramsey
---
See also: Ferrari-driving kid's parents charged by Indian police [w/video], Amazing LaFerrari tribute watch more intricate than the real thing [w/video], Ferrari 458 Italia becomes most expensive prize ever on Price Is Right.