Rolls-Royce Wraith officially revealed in profile
Tue, 22 Jan 2013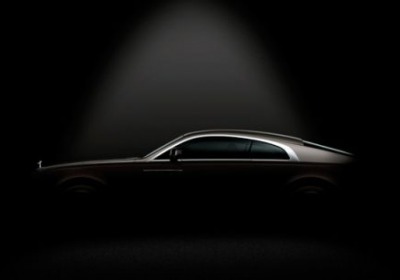 Well here's a nice twofer. On the same day Rolls-Royce releases its first official teaser image showing the 2014 Wraith, we also get a look at the car undergoing some cold-weather testing courtesy of some new spy shots. As the coupe version of the Ghost, the 2014 Rolls-Royce Wraith will make its official debut at the Geneva Motor Show in March, and it's expected to go on sale during the fourth quarter of this year.

Rolls-Royce already confirmed plenty of information in a teaser it released last week, but the latest image shows us a clear shot of what the car's midsection will look like. Comparing this image and the spy shots, we can see that the Wraith will have a pretty sleek – (almost Bentley Continental GT-like) roofline, and, like the Phantom Coupe, it will have rear-hinged doors. We can also tell from the spy shots that it seems to be keeping the same face as the Ghost and taillights, too.

Be sure to check out the latest spy photos for the Wraith as well as a brief press release from Rolls-Royce by scrolling below.

ROLLS-ROYCE WRAITH: IN PROFILE

22.01.2013

Rolls-Royce Motor Cars today publishes the first official image of its new model Wraith, which will be launched at the Geneva Motor Show in March 2013.

The graceful silhouette gives expression to a bold and thoroughly contemporary luxury motor car. Flowing lines hint at the extraordinary power and dynamic promise of the most powerful Rolls-Royce in history, yet also highlight design cues that can be traced through the model generations.

Rolls-Royce Wraith evokes the pioneering spirit and lust for adventure that drove company forefather the Honourable Charles Rolls - the consummate gentleman racer. But like Rolls, Wraith will also be steeped in the trappings of luxury and opulence.

When Wraith is present, for that fleeting moment, the world will stand still.
---
By Jeffrey N. Ross
---
See also: Rolls-Royce Ghost meets its muddy maker in Jakarta flood, Rolls-Royce teases Wraith debut in Geneva, Rolls-Royce rings up best-ever sales year.