Rolls-Royce Ghost meets its muddy maker in Jakarta flood
Sun, 20 Jan 2013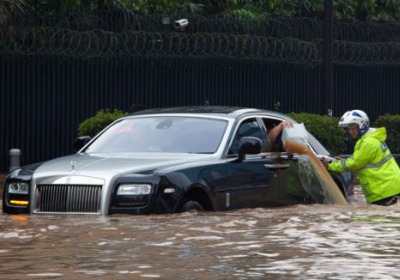 When severe weather or a natural disaster strikes an area, it's hard to get sentimental over trivial possessions like cars, but at the same time, as auto enthusiasts, it always pains us to see a rare car lost regardless of the circumstances. Heavy rains in Jakarta, Indonesia have produced the worst flooding in the city since 2007, which according to Reuters has left an estimated 18,000 people displaced from their homes in addition to six deaths, leaving the roadways covered covered in feet of water.


One of the many cars claimed by the rising waters was this Rolls-Royce Ghost that is surrounded by water that almost fully covers the massive wheels. There is no word as to how much water got inside this Ghost, but it was obviously enough that it could be bailed out by the bucket.
---
By Jeffrey N. Ross
---
See also: Rolls-Royce teases Wraith debut in Geneva, Rolls-Royce rings up best-ever sales year, Rolls-Royce Phantom celebrates decade of decadence.