OnStar RemoteLink mobile app coming standard on all new GM vehicles
Thu, 06 Jun 2013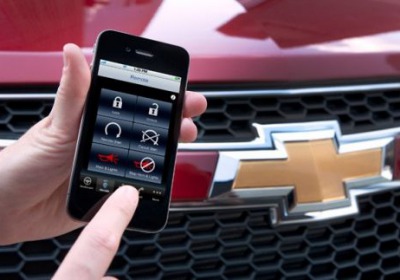 As an evolution and improvement of its OnStar technology, General Motors has announced that it will be expanding the RemoteLink Mobile App on most 2014 model year Chevrolet, Buick, GMC and Cadillac vehicles. The new, aptly named RemoteLink Key Fob Services will allow users to remotely operate all of the same systems as the car's key fob, including locking and unlocking the doors and remote starting (on vehicles equipped with a factory remote starter) using a smartphone.

These Key Fob Services will be free for five years – starting from the vehicle's delivery date – but the full suite of RemoteLink features will continue to be offered only with a subscription (trial or paid). These premium features include contacting a live adviser, getting turn-by-turn directions and remotely monitoring the vehicle's diagnostic systems.

Scroll down below for the complete press release with all the details.

GM to Make Door Unlock, Remote Start Standard
Broadened key fob-based RemoteLink Mobile App services good for five years

DETROIT – Remotely unlocking doors, activating horn and lights and remote start for factory-equipped vehicles are among services General Motors will make standard via smartphone for five years through the OnStar RemoteLink Mobile App.

GM announced the new RemoteLink Key Fob Services program today for OnStar-equipped 2014 Chevrolet, Buick, GMC and Cadillac models – even if the owner declines to pay for other OnStar services. It is the broadest deployment of remote services offered through a mobile app by any auto manufacturer. More than 36 2014 model year GM vehicles are compatible with the RemoteLink mobile app.

"We know our customers value remote services," said Mary Chan, president GM Global Connected Consumer. "GM owners request remote door unlock assistance through OnStar more than 60,000 times each month, so it makes sense for us to offer RemoteLink Key Fob Services to enable customers to lock, unlock or start their vehicle from anywhere they have a wireless or cellular connection."


Remote start is the most popular remote service by current users of the RemoteLink Mobile App.

The complete set of RemoteLink Mobile App services remain available with a trial or paid OnStar subscription. Additional services include monitoring the status of the vehicle's operating systems, including remaining oil life, fuel level range in miles, tire pressure, and miles per gallon. It also includes a one-touch connection to an OnStar Advisor for a simple request or emergency need. RemoteLink Mobile App users with the Directions and Connections plan can also send Turn-by-Turn directions directly from their smartphone to their vehicle.

Once a customer takes delivery of an eligible 2014 GM vehicle they can simply download the free application to a compatible smartphone and agree to terms. The five-year period runs from the vehicle delivery date.

"Our vehicles are getting more connected, and so are we. As mobile devices become a bigger part of our lives, GM understands the importance of providing our customers the ability to use these devices as part of their vehicle experience," said Chan.

"What's great about the RemoteLink Key Fob Services is that it works far beyond the range of a traditional key fob, which can come in handy in a number of situations," such as starting your car on a cold day as you leave the office or ensuring your vehicle is safely locked in the airport parking lot as you sit in the terminal.

"Customers expect the connection to their vehicle to be available anywhere they go and anytime they want to use it," said Alan Batey, GM vice president, U.S. sales and service. "RemoteLink Key Fob Services represent simple, smart connectivity and another example of how GM brands are evolving services and connecting with our customers."

GM introduced the auto industry's first mobile app when it launched RemoteLink for the Chevrolet Volt in 2010 using OnStar technology. Today, the RemoteLink Mobile App, which is available for nearly all GM brands, has been downloaded more than 1.5 million times with more than 320,000 regular users.

The full suite of OnStar in-vehicle services includes 24/7 access to a live Advisor, Automatic Crash Response, Stolen Vehicle Assistance, Hands-Free Calling, Vehicle Diagnostics, Turn-by-Turn Navigation (with the Directions and Connections package) and more.

General Motors Co. (NYSE:GM, TSX: GMM) and its partners produce vehicles in 30 countries, and the company has leadership positions in the world's largest and fastest-growing automotive markets. GM, its subsidiaries and joint venture entities sell vehicles under the Chevrolet, Cadillac, Baojun, Buick, GMC, Holden, Isuzu, Jiefang, Opel, Vauxhall and Wuling brands. More information on the company and its subsidiaries, including OnStar, a global leader in vehicle safety, security and information services, can be found at http://www.gm.com.
---
By Jeffrey N. Ross
---
See also: GM recalling Cadillac ATS, XTS, Chevy Impala over faulty brake lamps, 2013 Buick Encore nets strong IIHS, NHTSA safety scores, NHTSA may greatly expand GM airbag recall.