Nissan working on bringing bizarro BladeGlider to dealerships?
Thu, 09 Jan 2014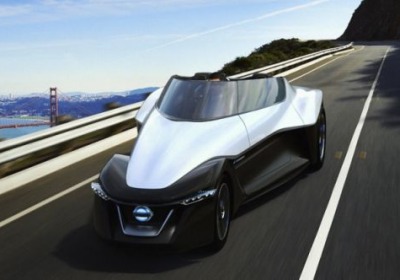 It's a rare thing for pie-in-the-sky concepts to make production relatively unmolested. Edges are usually softened, mirrors made bigger and wheels shrunken into something that will be less backbreaking and easier to see out of on public roads. And while the essence of many concepts can still find their way into production, the wackier parts found in their concept forms often end up as nothing more than flights of fancy.

That makes news of the strange Nissan BladeGlider being considered for production rather interesting. You'll recall that the BladeGlider Concept debuted in November at the 2013 Tokyo Motor Show, featuring a McLaren-esque three-seat V layout, an electric drivetrain and a narrow front track like the DeltaWing and ZEOD RC. Understandably, perhaps, Nissan has been touting it as "reinventing the performance car." Everything about it screamed "concept."


Now comes word from Car in the UK that the car may actually make it to production. Quoting Nissan vice president Andy Palmer, "It's in our mid-term plan." "Our intention is to do it," he says. Now, Palmer has plenty of sway, but this should hardly be taken as an absolute confirmation that the triangle-shaped car would be coming. It is, however, a very promising sign. Palmer evidently sees the BladeGlider as a way to cajole young people into becoming car enthusiasts, which suggests Nissan might try to make it inexpensive. Alternatively, the BladeGlider could form the basis of a small-volume racecar, but it isn't clear what racing organization would have it.

Either way, before the BladeGlider can be green-lit, the Japanese company's lawyers need to sort things out with Don Panoz. The American businessman turned car builder is suing Nissan due to a striking similarity between Panoz's DeltaWing racer – which Nissan helped campaign at Le Mans – and the Japanese automaker's ZEOD RC and BladeGlider Concepts. Panoz has already filed a cease-and-desist letter and is apparently targeting full intellectual copyrights.

If Nissan ends up besting Panoz in court, though, it seems there's at least one powerful voice in Nissan that wants to see this car happen. Would you consider a production BladeGlider or would Nissan be better off building a more traditional sports car? If the BladeGlider did make production, do you think it'd retain its pure EV setup or run a conventional engine? Let us know in Comments.
---
By Brandon Turkus
---
See also: Nissan hopes to inject some spice into Rogue with 'Open The Briefcase', 2014 Nissan Rogue, Did Amazon just deliver a car in a giant box?.