2014 Nissan Rogue
Wed, 08 Jan 2014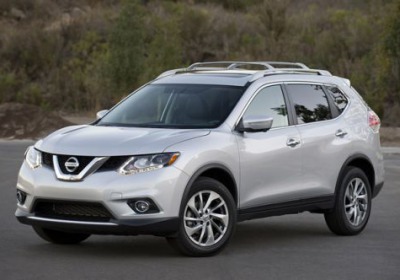 The compact crossover segment is crowded because it offers near-perfect transportation for small families and empty nesters alike. As more and more consumers discover the benefits of compact crossovers – riding tall in traffic, enjoying four-cylinder fuel economy and the confidence of all-weather traction – automakers are jumping into the game to meet the increasing demand. Today's choices, in no particular order, include the Honda CR-V, Jeep Cherokee, Mazda CX-5, Hyundai Tucson, Mini Countryman, Subaru Forester, Kia Sportage, Volkswagen Tiguan, Ford Escape, Mitsubishi Outlander, Toyota RAV4 and this Nissan Rogue. Nearly all start around $22,000 in base trim and work their way reasonably upwards with more appealing trim levels and options. If you spend much over $33,000 in this segment, you are a glutton for frosting.

The latest player from Nissan is its all-new second-generation Rogue, introduced late last year as a 2014 model. After a brief First Drive in October, we recently welcomed back the Rogue for a week-long review. The plan was to embed the compact crossover into a family routine during the holidays, where it would receive a hearty workout hauling everything from five adult passengers and their shopping bags to trays loaded with warm honey-glazed hams and pecan pies for a dinner party. The compact CUV handled all with poise, but everything wasn't as sweet as its edible cargo.

Purely by coincidence, the Brilliant Silver over Charcoal leather Rogue SL AWD that was dropped in our driveway was the very same vehicle Senior Editor Steve Ewing drove at the launch two months prior. We couldn't schedule that to happen, even if we tried.



As a recap, the base front-wheel-drive Rogue S starts at just $22,490 (plus $860 destination and handling) while the range-topping SL model with all-wheel drive spins the dial to $30,280 including destination fees. This particular vehicle arrived fitted with Nissan's SL Premium Package, an option grouping that includes power panoramic moonroof, LED headlights, Forward Collision Warning and a suite of Safety Shield Technologies, all of which totaled up to $1,990. Lastly, Nissan asks $125 for carpeted floor mats, which brought the grand total to $32,395. Notably absent was the optional third row, which allows the Rogue to hold seven belted passengers – very unusual for a compact crossover. Inexplicably, the third row is only offered on the S and SV trims, which explains why it was not fitted to our heavily optioned SL test vehicle.


There is little physical evidence to suggest that the Rogue is sporty in nature – it's an economy-oriented family hauler.
Common across all three trim levels is the automaker's familiar 2.5-liter QR25DE four-cylinder engine, which is tuned to deliver 170 horsepower at 6,000 rpm and 175 pound-feet of torque at 4,400 rpm. Also shared with both the front- and all-wheel drive models is Nissan's Xtronic continuously variable transmission (CVT). Enhanced to improve drivability and efficiency, the updated CVT boasts a "Sport Mode" aimed at livening things up.

Other mechanical specifications include an independent suspension front and rear, with stabilizer bars at both ends of the chassis. There are disc brakes at all four corners and the electrically boosted steering features vehicle-speed variable assist. Base models arrive with 17-inch steel wheels, but the SL boasts 18-inch alloys, wearing 225/65R18 all-season tires. Nissan fits all Rogues with its Active Trace Control (an electronic system that grabs the inside brake to assist cornering), Active Engine Braking (utilizing automatic downshifts to assist the brakes) and Active Ride Control (an electronic system that applies the brakes and adjusts engine torque to reduce chassis pitch and roll). Despite the driving aids that improve handling, there is little physical evidence to suggest that the Rogue is sporty in nature – it's an economy-oriented family hauler.



The five-place interior of this particular test car is best described as monochromatic gray. The only real splash of color was found on the red seatbelt releases and on the dashboard instrumentation. Simulated carbon-fiber and aluminum trim help to break up some of the expansive dreariness, but the overall tone is somber (we suggest checking out the Almond leather, as it provides a much more visually appealing and lighter two-tone combination). As expected at the price point, most plastics are hard and the perforated leather doesn't feel like it ever covered the back of a living, grazing animal.


Most plastics are hard and the perforated leather doesn't feel like it ever covered the back of a living, grazing animal.
Without question, the Rogue's cabin is roomy. However, your author's six-foot, two-inch frame found little comfort in the driver's six-way power-adjustable seat, despite its NASA-inspired "zero-gravity" design. The bottom cushion doesn't elevate enough to support one's thighs, which can make the driving position very unpleasant. That frustration aside, leg and headroom were adequate in both front seats.

Passengers in the second row sit elevated, theater style, with average legroom. Children enjoy improved outward visibility from the raised seats and the vents at the rear of the center console that provide fresh air, but we did hear complaints about the inline cupholders on the fold-down center armrest (they prefer side-by-side). We sat back there, simply to see how much room an adult would find, but our knees pressed firmly into the soft backing of the front seats. Moving the driver's seat forward an inch or two, not necessarily uncomfortably, meant that second row was fine.




Absent of the third row, the cargo space in the rear of the Rogue is very generous – one the largest in its segment. The second row splits and folds 40/60, and the seats drop to make a nearly flat floor. It takes a bit of acclimation, but Nissan's Divide-N-Hide cargo system provides more than a dozen adjustable variations between the cargo and occupant areas to keep things from sliding around and tucked away from peering eyes.


Total available storage, in terms of nooks and crannies, seems below standard for this segment.
Ergonomically, the Rogue's interior is rather challenged. Some of its competitors are moving to electronic shifters and electronically actuated parking brakes that clear up valuable cabin real estate. The Rogue retains a large, traditional shift lever stuck between the driver and front passenger and a foot-operated parking brake. Both are carried over from the preceding model. Even though there is a nice center console under the driver's right elbow, total available storage, in terms of nooks and crannies, seems below standard for this segment, which is surprising in an a new vehicle.

There were other interior gripes, too. Cabin illumination includes a strange mix of LED and incandescent lighting (at two different temperature colors), which appeared inconsistent at night. A cluster of secondary switchgear, including the frequently used trunk release, is hidden low and out of view on the dashboard to the left of the steering wheel. The audio dials both lack tactile feedback and oddly, the resistance of the turn signal stalk (moving up and down) is unusually heavy. On a positive note, the navigation system's seven-inch color touchscreen refreshed with impressive fluidity. The nav was also quick to respond and intuitive to use.



Unfortunately, the Rogue's biggest disappointment comes from under the hood. The trusty 2.5-liter four is not only showing its age (the first-generation QR25DE was introduced more than a decade ago), it's simply outgunned and overworked in a 3,605-pound vehicle. This is a problem only magnified with a full load of passengers and cargo on board.


The EPA rates the 2014 Rogue AWD at 25 mpg city and 32 mpg highway.
The CVT only adds to the agony, as it sets the engine at a numbing and particularly annoying loud drone when the throttle is tended with authority. Pressing the Sport button holds the ratios longer and calls on more aggressive downshifts, but the CVT's simulated gear changes are artificially comical – nobody is fooled. After driving the competition, many with smoother engines and more competent torque converter automatic gearboxes, one has to wonder when Nissan will give the Rogue a worthwhile powertrain.

But there is an upside to the engine's racket and CVT's dull character – fuel economy. The EPA rates the 2014 Rogue AWD at 25 mpg city and 32 mpg highway. Our observed around-town fuel economy hovered in the low 20s and climbed into the low 30s on the highway during a 70-mph cruise. Those are strong numbers in light of how hard we pushed the 2.5-liter with a load, and these figures exceeded our expectations. The Nissan burns regular unleaded fuel too, unlike some of its turbocharged competitors, saving another handful of dimes each time the 14.5-gallon fuel tank is filled.



Dynamically, the rest of the Rogue comes across as merely average (you'll recall that "fine" was the common theme in our first drive). Handling is competent and stable, the steering has good weight and braking is plenty efficient. The ride is nice and little wind noise permeates the cabin. Over our week-long test, the Rogue never failed to bring everyone to the next destination, but nobody offered positive comments about cabin and appointments – especially from behind the steering wheel.


We found the Nissan to be decidedly mid-pack.
The crowded compact crossover segment understandably has a few duds that seem to be only playing for participation points, but there are also several overachievers who are capturing market share and building their brands. We found the Nissan to be decidedly mid-pack.

As an economy-oriented family hauler, the all-new 2014 Rogue delivers the goods. Nissan has carefully checked-off the segment's objective requirements of a roomy cabin, all-weather capability, solid fuel economy, interesting styling and innovative technology. But it has also dropped the ball in terms of ergonomics and powertrain refinement, and those are two very significant (if subjective) factors that would have us shopping elsewhere.


Vital Stats
Engine:

2.5L I4

Power:

170 HP / 175 LB-FT

Transmission:

CVT

0-60 Time:

8.9 Seconds (est.)

Drivetrain:

All-Wheel Drive

Curb Weight:

3,605 LBS

Seating:

2+3

Cargo:

70.0 CU-FT (max)

MPG:

25 City / 32 HWY

Base Price:

$22,490

As-Tested Price:

$32,395
---
By Michael Harley
---
See also: Did Amazon just deliver a car in a giant box?, Nissan presents NV200 is the brave new face of London taxis [w/video], Nissan returning to top-level US racing with this TUDOR entry.