Nissan's Dacia Duster-based Terrano revealed
Thu, 22 Aug 2013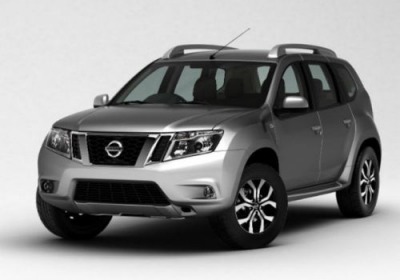 The new Nissan Terrano has appeared in production form after an apparent August 20 launch in India, but the small sport utility vehicle remains sadly aloof from the US market. We've had our eyes on the Terrano ever since we learned it would be produced as an upscale alternative to the Dacia Duster on which it's based, but currently Nissan has no plans to import it here. Blame safety and perhaps emissions laws – the Duster was never designed for our market.


Even with these less-than-high resolution images, it's clear that the beyond the obvious badges, Nissan's signature trapezoidal grille and a slightly altered rear end with new taillights are the biggest visual clues that this is the Terrano, but those with astute eyes will also notice a slightly redesigned hood and blacked-out door pillars instead of the Duster's body-colored items. Either way, it looks to be a handsome, low-cost little brute – the sort of simple and rugged SUV that's hard to come by in today's marketplace.
---
By Damon Lowney
---
See also: Nissan says next Rogue coming September 10, Nissan looking to expand UK plant to build Infiniti Q30, Will Nissan's Cummins deal upset Ram's marketing mojo? [w/poll].