Nissan rowed the Note ashore [w/video]
Thu, 24 Oct 2013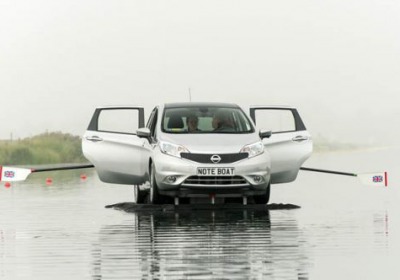 Normally we wouldn't suggest trying to float your car on water, but Nissan has made some modifications to turn its new Versa Note hatchback into a makeshift rowing shell.

Nissan replaced the car's rear seats with a sliding rear rowing seat, modified the doors to open wider at 90 degrees and fitted a pair of oars. Most importantly, they put the whole thing on a floating platform to keep it from sinking into Eton Dorney Lake, the site of the 2012 Olympic rowing competitions in England (where the car is simply known as the Nissan Note).

Then they invited medal-winning competitive rowers Helen Glover, Sophie Hosking and Polly Swann to come along and row the thing, making use of the around-view monitor system to see where they were going. All in all it may not be quite as cool as the boats which Fiat made out of the 500 or Mini made out of its convertible, but it's still enough to float our boat. Check it out in the video clip and press release below and the image gallery above.






THREE ROWERS AND A NOTE BOAT: NISSAN'S NEW SMALL CAR IS LAUNCHED

- Nissan creates waves at Eton Dorney media event with specially-adapted Note Boat
- Provides a visual demonstration of Note's exciting technologies...
- ...with help from rowers Helen Glover, Sophie Hosking and Polly Swann
- Nissan has already received 3,860 orders for the new B-sector rival

Nissan has launched the new Note – literally. To mark the start of sales of its new B-segment car, Nissan held a media event at Eton Dorney Lake last month. And to demonstrate the Note's new technology, Nissan created a Note Boat, which was 'driven' at the 2012 Olympic venue by three superstar Olympic rowers.

A very graphic and entertaining way of showing off the new Note's technology, the Note Boat has been specially adapted allowing it to be rowed at the 2012 Olympic venue.

Just like the roadgoing version, it features a sliding rear seat – in this case a single stroke seat for a rower – while rear doors which open to almost 90 degrees mean that unlike on a regular supermini, Nissan has added a pair of oars which can move through an entire rowing stroke.

But how do you see where you're going when you have your back to the lake? And how do you keep in your lane? That's where the Note's Around View Monitor 360-degree parking system and its Safety Shield technology come in.

Just like the road car it features four cameras – one in the front, one at the rear and one under each door mirror – to give a helicopter-style top down view. In addition the Note Boat, like the Note road car, uses its rear view camera to give Lane Departure Warning, Blind Spot Warning and Moving Object Detection.

In the Note Boat, these systems combine to allow the rower to see where they are going without looking behind them – and also stay in their lane. Think of the system as a virtual cox.

So who better to test the Note Boat than three Olympic rowers? Thanks to Nissan's sponsorship of Team GB and ParalympicsGB, some very special guests joined media at Eton Dorney Lake – 2012 gold medallists Helen Glover MBE and Sophie Hosking MBE, who triumphed in the womens' coxless pairs and the lightweight double sculls respectively – and Polly Swann, who partnered Glover at the 2013 World Rowing Championships scoring a victory the womens' coxless pairs.

Helen Glover said: "I wish I could have a camera system like this in some of my races – it certainly would make seeing where my rivals a bit easier!"

Polly Swann added: "It's certainly a novel experience rowing down Eton Dorney Lake in a car. I'm amazed at how wide the doors open – I could achieve almost a complete rowing stroke, which produced more than enough power to push the Note down the lake."

Nissan has exciting plans for the Note Boat in future. As for the roadgoing Note, deliveries started on October 1st and the B-segment rival has already proved a huge success with some 3,860 cars ordered.
---
By Noah Joseph
---
See also: Nissan recalling 151,000 CUVs over ABS issues, 2014 Nissan 370Z Nismo, Skyline-powered Nissan Patrol shows Juke-R how it's done.