New Chevrolet Silverado to be revealed on Facebook on Thursday
Tue, 11 Dec 2012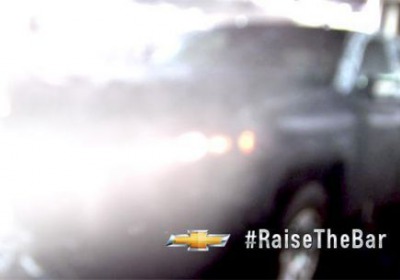 There's not much to see here, but if you're one of those waiting for the reveal of the 2014 Chevrolet Silverado 1500, above is the teaser image that Chevrolet posted on its Facebook page. We've seen the truck in form-fitting camo before, and even less can be made out here beyond those seriously punchy Silverado-esque fenders and the knowledge that the projector-beam headlamps teased previously do indeed work. We'll have to wait until Thursday for a full perusal of the "bold exterior design" and "careful attention given to every detail" we've been promised.

Gathering intel and rumors, magnesium and aluminum contribute to the Silverado's weight loss plan, the purported "High Country" top-tier trim will contribute to luxury pickup truck competition and profit margins and the next-generation small-block V8 will contribute to improved fuel economy. On the engine note, there have been rumors of available V6 engines, and when Facebook user John Jones asked "Where's your answer to that EcoBoost Chevy?", the Bowtie replied "stay tuned on the 13th. We think you'll be pleased...".


Along with the "Raise the Bar" tag, Chevrolet says of the Silverado, "You asked, we delivered." You can watch the reveal live on Chevrolet's Facebook page at 9:30 am EST, this Thursday, December 13. The GMC Sierra 1500 will also be there, and we'll see both in person at the Detroit Auto Show in January.
---
By Jonathon Ramsey
---
See also: Subprime financing on the rise in new car sales, leasing too, GM profits threatened by glut of pickups, GM profits threatened by glut of pickups.