Subprime financing on the rise in new car sales, leasing too
Fri, 07 Dec 2012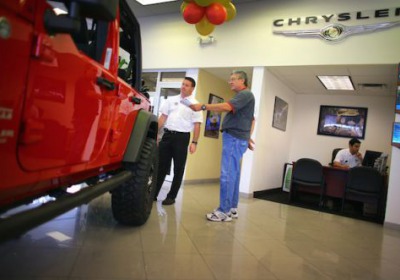 We all remember the financial crisis that began several years back. At its core was a splurge of subprime lending for housing loans. The housing bubble burst, triggering a collapse of the mortgage-backed securities market. Apparently, those types of loans still exist in the automotive industry, and the market share for these types of "nonprime, subprime, and deep subprime," loans has grown 13.6 percent compared to the third quarter a year ago.

According to an Automotive News report, high-risk lending expanded to 24.8 percent of total loans in Q3, up from 21.9 percent for this time last year. As this level increased, average credit scores of borrowers dropped to 755, down from 763 a year ago. In that time, the average financing amount increased $90 per vehicle, to $25,963.

At 818, Volvo maintains the highest per-owner credit score, while Mitsubishi has the lowest, at 694. The highest rate of borrowers was at Toyota, with 14 percent of the market, followed by Ford with 13.1 percent and Chevrolet at 11.1.


Part of the growth in lending is the willingness to offer longer-term loans. Dealerships are starting to offer 60, 72 and 84 month borrowing periods. Carmakers are reluctant to do so, as it takes the customer off the market too long, yet the seven-year loan period is the fastest-growing category in automotive borrowing.

It all points to an industry that is eager to maintain the wave of recovery even at the risk of potentially aggressive lending practices.
---
By George Kennedy
---
See also: 1,400 Mitsubishi vehicles lost in shipping tragedy, GM profits threatened by glut of pickups, Car and Driver lists 10Best for 2013, same as it ever was.