Jaguar Land Rover and Chery investing in Chinese plant
Sat, 24 Nov 2012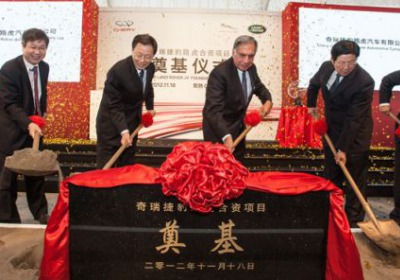 While the European auto market for Jaguar and Land Rover is waning, Chinese car buyers can't get enough of the British marques. To meet that demand, Tata Motors, parent company of Jag and Land Rover, is partnering with Chinese automaker Chery Automobile Co.

The two announced plans to invest $1.75 billion to build a new plant and create a new, China-focused brand. 2014 is the target for completion of the factory. Jaguars and Land Rovers built at the facility will be the first ever produced outside the UK according to the Associated Press. The JV will be called Chery Jaguar Land Rover Automotive Company Ltd.

The announcement comes less than a month after JLR announced it would open a design studio in China. It's not clear from the reports whether the two announcements are part of the same JV or two separate plans.

China requires any company wanting to set up domestic production to partner with a local business. By doing so, JLR avoids a 25-percent tariff on imported cars. Chery benefits from a planned research and development center as well as a chance to "really upgrade its capabilities," according to Bill Russo of Synergistic Ltd. in Beijing.

You can read the official press release below.


PARTNERSHIP WILL MANUFACTURE JAGUAR LAND ROVER AND JOINT VENTURE BRANDED VEHICLES
JV PLANT TO BE LOCATED IN CHANGSHU, JIANGSU PROVINCE
INVESTMENT OF 10.9BN RMB IN CHINA JV PROJECT
CHINESE GOVERNMENT GRANTS APPROVAL AND LICENCE FOR JOINT VENTURE


Jiangsu, China & Coventry, UK: Jaguar Land Rover and Chery Automobile Company Ltd, the British and Chinese carmakers, today formally laid the foundation stone for their new manufacturing facility in the People's Republic of China.

The two companies recently received formal approval from the Chinese Government for their joint venture and now have a licence to manufacture Jaguar Land Rover vehicles and new models for a partnership brand in China.

Jaguar Land Rover and Chery will now accelerate plans to build a joint venture manufacturing plant in Changshu, near Shanghai, as part of a 10.9bn RMB investment that will also include a new research and development centre and engine production facility. The project includes the creation of a new partnership brand to assemble models tailored specifically for the Chinese market, including the marketing and distribution.

The benefits of the joint venture to China include investment, job creation, advanced technology and low carbon solutions. The joint venture will blend together the heritage and experience of luxury premium vehicle manufacturer Jaguar Land Rover with the intricate knowledge and understanding of Chinese customers evident at Chery.


The JV underlines a firm commitment from both companies to the world's largest car market for the long term future.

In a joint statement, at today's press conference in Jiangsu, Dr. Ralf Speth, Jaguar Land Rover Chief Executive Officer, and Mr Yin Tongyao, Chairman and Chief Executive Officer of Chery Automobile Company Ltd, said: "We are delighted to have reached this milestone, achieved thanks to the understanding and foresight of the Chinese authorities and we want to thank them for recognising the potential of our joint venture in the fast-growing Chinese market.

"Together, we will now begin working in close collaboration on our partnership plans to harness the capabilities of our respective companies, to produce relevant, advanced models for Chinese consumers."

The name of the new joint venture company was also confirmed today by Dr. Ralf Speth and Mr Yin Tongyao. The equal partnership will be called - Chery Jaguar Land Rover Automotive Company Ltd.

In addition to established vehicles, the partnership will also produce models for a domestic brand tailored specifically to local customer demand. Both companies are committed to investing heavily into product innovation and advanced technologies using a new Research and Development Centre, more details of which will be released at a later date.

The two companies plan to complete the Changshu facility in Jiangsu province during 2014. Construction of a new engine plant for production of fuel efficient engines is also part of the JV partnership agreement.

The confidence of Chery's partnership with Jaguar Land Rover follows rapid expansion of the Jaguar and Land Rover brands in China, where sales rose 80 per cent in the first 10 months to October 2012. In the 2011 calendar year, Jaguar Land Rover saw sales increase more than 60 per cent, driven mainly by the Jaguar XJ and XF models, and strong demand for the fuel-efficient Range Rover Evoque.

Chery, the largest Chinese car exporter and one of the country's most productive automotive manufacturers, has 15 years' experience in the automobile industry.

The partnership with Jaguar Land Rover signals the start of international expansion and strategic development for Chery Automobile.
---
By Chris Tutor
---
See also: Ford's J Mays feels vindicated by Fusion reception, Ford's J Mays feels vindicated by Fusion reception.