ItalDesign Giugiaro Parcour loses its lid
Tue, 05 Mar 2013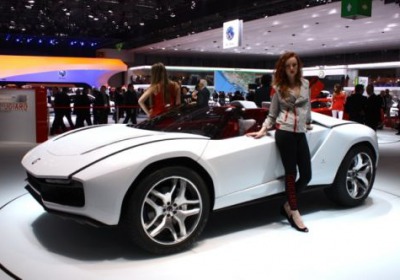 What could possibly be better than a two-passenger, off-road performance coupe built atop the Lamborghini Gallardo platform? A topless version of said vehicle, of course. We've already showed you the ItalDesign Giugiaro Parcour in fixed-roof form, and now we're able to bring you some live shots of the Parcour Roadster.


Honestly, the Parcour's lines probably look better on the hardtop model, but the Roadster's lack of top did give the ItalDesign Giugiaro crew a chance to change up the design ever so slightly. The windshield has been chopped and uses carbon-fiber pillars doubling as the vehicle's rollbars, while the hoops over the seats are also designed with safety and styling in mind. In addition to the roof, the Roadster also removes the separator between the passenger compartment and the engine bay meaning there is absolutely nothing to filter the noise created by the mid-engine 5.2-liter V10 putting down 550 horsepower.
---
By Jeffrey N. Ross
---
See also: Submit your questions for Autoblog Podcast #323 LIVE!, Lamborghini Veneno supercar celebrates the bull's 50th birthday, Lamborghini Veneno makes full appearance before Geneva debut.