Hennessey twin-turbo Ferrari 458 boasts 738 hp, 0-60 in 2.8 seconds
Wed, 14 Aug 2013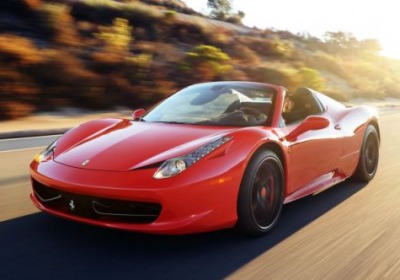 Hennessey Performance Engineering, hot off the heels of its Bugatti Veyron-crushing Venom GT, set its sights on modifying one of the finer Ferrari models. The resulting HPE700 Twin Turbo 458 is a badder, faster 458 Italia with a twin-turbo upgrade that adds 168 horsepower to the already potent 4.5-liter V8. That's 738 hp, which, paired with the extra 134 pound-feet of torque, for a total of 532 lb-ft, is good for a 2.8-second 0-60 run.

Low-inertia ball-bearing turbochargers are used to boost the power, and an air-to-water intercooler makes sure the air surging into the combustion chambers is as cool and dense as possible. Twin wastegates and blow-off valves relieve extra boost pressure and, in addition to a new stainless-steel exhaust system, add some new noises to the 458's soundtrack. The V8 is boosted to a relatively mild 7 psi maximum and maintains 6 psi on its way up to redline. A reflash of the engine control unit brings the package together. HPE is confident enough about its wares that the $59,995 upgrade also comes with a one-year/12,000-mile warranty.

The HPE700 Twin Turbo 458 is set to be unveiled on Friday at the Concorso Italiano located at the Laguna Seca Golf Ranch, which is part of California's Monterey Car Week festivities. It also can be viewed on Saturday in the paddock at Mazda Raceway Laguna Seca for the Monterey Historics Rolex Monterey Motorsports Reunion vintage car races. Check out the press release below for the full details, as well as a video of the Ferrari in action.






Hennessey Set to Unleash 738 HP Twin Turbo Ferrari 458 at Monterey

With forced induction, Maranello's prancing horse becomes a crazed stallion

August 13, 2013

Monterey, California-Hennessey Performance (HPE) will unveil the company's first modified Ferrari on Friday, August 16th at Concorso Italiano, a display of Italian machinery that's part of the annual celebration of classic and historic cars informally known as the Monterey Weekend. The car will be shown at Concorso's home, the Laguna Seca Golf Ranch off Highway 68, in conjunction with Meguiar's, a maker of premium car care products. On Saturday, August 17th, the car will be on display in Laguna Seca's paddock as part of the Rolex Monterey Motorsports Reunion.

"The HPE700 Twin Turbo 458 delivers a sound and driving experience that few road cars can offer," said company founder John Hennessey. "Aventador owners, beware-this car will take you by surprise!"

The Hennessey HPE700 Twin Turbo upgrade for the Ferrari 458 delivers 738 horsepower at 8,400 rpm and 532 lb-ft of torque at 5,600 rpm. The additional thrust, approximately 170 more crankshaft horsepower than stock, pushes this already magnificent steed from Maranello to an even higher performance plateau, with a compelling, raw soundtrack to match its explosive quarter-mile time: 10.5 seconds at 137 mph. It's a rarefied group of supercars that can sprint to 60 mph in under 3.0 seconds, and the HPE700 Twin Turbo Ferrari easily qualifies at 2.8.

Most of the upgrade's componentry is concealed beneath custom-made carbon-fiber covers, but if you stripped them away you'd see the low-inertia ball-bearing turbochargers tucked up neatly toward the tail end of the dual-clutch sequential 7-speed gearbox, the TIG-welded, mandrel-bent T304 stainless tubing, the twin wastegates and blow-off valves and an especially trick aluminum plenum that contains the air-to-water charge-cooler element. At the other end of the self-contained charge-cooling loop is a rear-mounted heat exchanger, paired with dual electric fans that work to reduce inlet temperatures that come with a maximum boost pressure of 7 psi, and holding 6 psi through the 4.5-liter V-8's 9000-rpm redline. A Hennessey reflash of the engine-control computer works in concert with the Ferrari's direct injection to optimize fuel delivery and spark. Overall, it's an elegantly engineered system, finished to Ferrari standards and expertly packaged in the 458's tight hindquarters.

Further personalization will be possible with optional upgrades including Hennessey's CarbonAero exterior pieces (currently under development) consisting of a carbon-fiber front splitter and rear lip spoiler designed to accentuate the 458's seductive lines. Hennessey 20-in. monoblock forged wheels are available, as is a KW suspension system with 2-way adjustable shocks and threaded spring perches for easy corner weighting and ride-height adjustment. Interior upgrades can be as extensive as the buyer desires, with custom leather/Alcantara color combinations, special stitch patterns and carbon-fiber trim for the dash and instrument cluster.

The Ferrari 458's HPE700 Twin Turbo upgrade sells for $59,995 installed and includes a 1-year/12,000-mile limited warranty and full dyno tuning and road testing. Serial-numbered aluminum plaques for both the engine compartment and dash are part of the upgrade, as is Hennessey exterior badging.

"This is car will impress any Ferrari owner," said Don Goldman, HPE CEO and longtime Ferrari owner. "Most purists would shudder at the thought of modifying their Ferrari. However, the HPE700 Twin Turbo 458 would easily change their mind."

About Hennessey® Performance Established in 1991, Hennessey® Performance (HPE) now operates from a new facility comprised of a 36,000 square foot building that is located adjacent to Lonestar Motorsports Park, the company's test track and IHRA sanctioned ¼ mile dragstrip. The 143-acre complex is located about 45 minutes west of Houston, Texas along Interstate 10. Hennessey® offer a wide variety of dyno-proven, track-tested parts for modern performance vehicles. In addition, Hennessey® operates Tuner School, the world's first fully state-licensed school dedicated to teaching and training future performance vehicle tuners.
---
By Damon Lowney
---
See also: Shell Ultimate Automotive Enthusiast contest returns to send winner to Barrett-Jackson and Maranello, LaFerrari gets shakedown from Fernando Alonso, BMW, Ferrari, VW cars use tungsten mined by terrorists.