Shell Ultimate Automotive Enthusiast contest returns to send winner to Barrett-Jackson and Maranello
Wed, 14 Aug 2013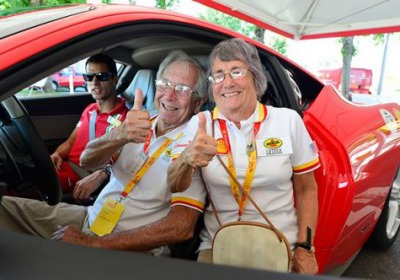 The first Shell V-Power Ultimate Enthusiast contest was held last year and sent finalists to a VIP experience at the Barrett-Jackson auction in Scottsdale, while the grand prize winner went to Maranello, Italy for some intimate time with Ferrari. The Dutch member of the seven sisters is doing it again this year: from now until September 17 anyone who wants a chance to live the same adventure can submit stories and photos that prove why they're the ultimate enthusiast.

Among the judging panel will be Roger Penske, Craig Jackson of Barrett-Jackson, drag racer Don Prudhomme, Tony Marini of Hot August Nights, Car and Driver chief Eddie Alterman, Road & Track honcho Larry Webster and last year's contest winner Harold Craige (pictured above with his wife at Fiorano).

Anyone in the US is welcome to submit. Three finalists will be flown to Scottsdale for a three-day VIP tour of Barrett-Jackson's January action, and they'll get a year's worth of V-Power premium gasoline. The grand prize winner will be announced in Arizona, and that person will get a week in Italy to explore the Ferrari factory complex and drive one of the company cars on the Fiorano track. Having been to the Maranello factory ourselves, we can attest that it's a bucket-list item for anyone who truly digs cars.

There's a press release below with more info. Good luck.

SHELL LOOKS TO CROWN THE NEXT ULTIMATE AUTOMOTIVE ENTHUSIAST

Top Panel of judges to Search for the 2013 Shell V-POwer® "Ultimate Enthusiast"

August 6, 2013, Houston – Today, Shell launched its second annual Shell V-Power Ultimate Enthusiast Contest, a search to find the one person that best represents their unyielding passion for automobiles. Following the success of last year's contest, Shell has once again teamed-up with top automotive experts and launched the contest today at Hot August Nights in Reno, Nev., the largest classic car and nostalgia event in the United States. Last year, Shell collected hundreds of stories from enthusiasts across the country which illustrated the moments that sparked their love for all things automotive – a passion at the heart of Shell V-Power, our best, most advanced gasoline for those who know and love their automobiles inside and out.

"The response to the 'Ultimate Enthusiast' contest last year was phenomenal. The stories these enthusiasts shared showcased what we always thought we knew: a passion for cars is about memories and an unwavering focus on performance," said Elizabeth Hudson, fuel category manager at Shell Oil Products US. "Like our enthusiasts last year and the ones we expect to hear from this year, we understand their dedication to performance. That is why we develop fuels like Shell V-Power, designed to deliver maximum protection for optimum performance for today's high performance vehicles."

Fans from across the automotive world – from classic car enthusiasts to race car aficionados – are invited to enter to become the next Ultimate Enthusiast. From August 6 to September 17, enthusiasts can share the stories and photos that show why they are the Ultimate Enthusiast at www.shell.us/ultimateenthusiast. They are also asked to share their formulas for excitement – their personal combination of time, place, destination and companion that would create their dream automotive experience. One grand prize winner and a guest will receive a once-in-a-lifetime Ultimate Enthusiast week in Italy, including an exclusive experience with Ferrari in its hometown of Maranello, Italy.


A roster of prominent automotive insiders and experts are back to judge this year's contest. Judges include Roger Penske, founder and chairman of Penske Corporation; Craig Jackson, chairman and CEO of Barrett-Jackson Auction Company; Eddie Alterman, editor-in-chief of Car and Driver; Larry Webster, editor-in-chief of Road & Track; Alan Taylor, host of The Drive with Alan Taylor; and Tony Marini, executive director of Hot August Nights. This year, Don Prudhomme, an American drag car racer and Harold Craige, the 2012 Ultimate Enthusiast Grand Prize Winner, will also join the esteemed panel of judges. As the reigning Ultimate Enthusiast, Craige brings a unique perspective to the panel as we search for the deserving individual to be crowned the next Ultimate Enthusiast.

"I am lucky to get to experience enthusiasts' intense passion for the automotive world first-hand every year at Hot August Nights," said Tony Marini, executive director at Hot August Nights. "I am thrilled that Shell is again celebrating this amazing community and its passion by launching this year's contest at Hot August Nights!"

This year, all photo submissions will be judged by the Joey Logano Foundation and one lucky winner could have their photo featured in its 2014 calendar and will receive a $100 Shell V-Power Gift Card.

The top three Shell V-Power Ultimate Enthusiast Contest finalists will be flown to Scottsdale, Ariz., for a three-day, VIP experience at the 43rd Annual Barrett-Jackson Collector Car Auction to be held January 12-19, 2014. The finalists will receive access to the world-famous car auction and an invitation to Barrett-Jackson's opening night gala on January 13, 2014 where the grand prize winner will be announced. The person selected as the grand prize winner could also win $5,000 in Shell V-Power Gift Cards, for his or her car club.

To pamper their beloved vehicles, all finalists will also receive a year's worth* of Shell V-Power Premium Gasoline. Should the grand prize winner be unable to redeem the Grand Prize they will be offered $10,000 in Shell V-Power Premium Gasoline. The Ultimate Enthusiast deserves the ultimate experience and the ultimate gasoline. Shell V-Power Premium Gasoline helps deliver maximum protection for optimal performance of their most prized possession.

"Last year's contest was a once-in-a-lifetime experience for me," said Harold Craige, 2012 Ultimate Enthusiast Grand Prize Winner. "When I entered last year, I couldn't have ever imagined the wonderful journey it would take me on. From being able to finally attend the world-famous Barrett-Jackson car auction, being named the Ultimate Enthusiast and then embarking on an automotive extravaganza in Italy, Shell has created a lasting memory for an old car guy. I will be telling my stories forever! I am excited to serve as a judge this year and I'm looking forward to passing on the title of Ultimate Enthusiast!"

For more information on the Shell "Ultimate Enthusiast" Contest and official rules and Shell V-Power, visit www.shell.us/ultimateenthusiast.

*For the purposes of this Prize, "a year's worth of Shell V-Power Premium Gasoline®" is calculated as the average consumer's yearly gasoline consumption of 636 gallons (4.5 fuel purchases per month x 11.77 gallons of gasoline per purchase x 12 months) at an average July 3, 2013 cost of $3.819 / gallon consistent with the Oil Price Information Services national average released on July 3, 2013 (636 x $3.819 = $2,428.88).

About Shell Oil Company
Shell Oil Company is an affiliate of the Royal Dutch Shell plc, a global group of energy and petrochemical companies with approximately 90,000 employees in more than 80 countries. We deliver a diverse range of energy solutions and petrochemicals to customers worldwide. These include transporting and trading oil and gas, marketing natural gas, producing and selling fuel for ships and planes, generating electricity and providing energy efficiency advice. We also produce and sell petrochemical building blocks to industrial customers globally, and we are investing in making renewable and lower-carbon energy sources competitive for large-scale use. In the U.S., we operate in 50 states and employ more than 20,000 people delivering energy in a responsible manner.
---
By Jonathon Ramsey
---
See also: LaFerrari gets shakedown from Fernando Alonso, BMW, Ferrari, VW cars use tungsten mined by terrorists, 2013 Ferrari FF [w/video].