Glickenhaus confirms new sports car in development for 2015 Geneva reveal
Tue, 19 Mar 2013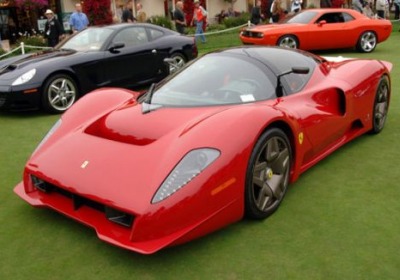 James Glickenhaus and his Scuderia Cameron Glickenhaus team will have a new model ready for the 2015 Geneva Motor Show. Codenamed the P33, not many details are known about the car, but the post in FerrariChat.com says that it will be much smaller than the Glickenhaus P 4/5 (shown above) with a size closer to the Dino Competizone.

The limited available information about the car indicates that the P33 will be crafted from carbon fiber, giving it a 1,600-pound curb weight, with a body that will have a "three-wing design." Planned as a one-off model, the P33 will be powered by a twin-turbo V6 putting out close to 500 horsepower.
---
By Jeffrey N. Ross
---
See also: 'World's Most Expensive Car Crash' results in 10 charged [w/video], Race Recap: 2013 Twelve Hours of Sebring, cakewalk up front, grindfest out back [w/spoilers], Recap: 2013 Australian Formula One Grand Prix is all about the rubber [w/spoilers].