Former Cadillac boss Butler takes Ford tech job
Tue, 07 Jan 2014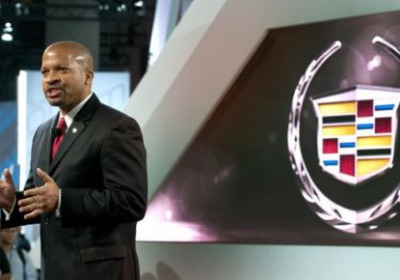 When Don Butler made the surprising decision to leave his post as Cadillac's VP of global strategic development, it was a surprise. Citing a desire to "recalibrate, reassess my priorities" in that August announcement, it wasn't entirely clear where Butler – a virtual General Motors lifer after spending nearly 30 years with the company – would end up. Turns out he took a trip to Dearborn.

Butler has taken a position in the newly created position of Executive Director of Connected Vehicles and Services at Ford, where he'll be responsible for the Blue Oval's global connectivity strategy. "Not only does Don understand the connected car landscape, but probably just as important, he understands customer expectations," said Raj Nair, who, as Group Vice President of Global Product Development, is Butler's new boss. "Having a leader with technology experience both inside and outside the industry is a rare combination – we're excited to have Don join our team."

As Ford has received its fair share of flak for the sometimes recalcitrant MyFord Touch infotainment system and its Sync voice-controls, it appears that Butler has his work cut out for him.

FORD OFFERS SYNC APPLINK FOR 3.4 MILLION MORE CUSTOMERS; NEW ORGANIZATION TO DRIVE GLOBAL CONNECTIVITY VISION

Industry-leading Ford SYNC® AppLink™ will be available on 3.4 million more vehicles later this year; free upgrade enables current Ford owners to access and control smartphone apps via voice command

New organizational alignments further Ford's vision to deliver a seamless customer experience for drivers – both inside and outside of the vehicle

Ford names industry veteran Don Butler to lead company strategy for developing fully integrated connected car experience

Building on the pioneering SYNC® in-car connectivity system it launched in 2007, Ford Motor Company today announces new system investments and organizational alignments to deliver the industry's best fully integrated connected car and digital consumer experience.

"Ford was first to bring affordable and widely available advanced connectivity features to the market starting with SYNC, putting Ford firmly on the map as a technology company," said Raj Nair, group vice president, Global Product Development. "With the rapid pace of mobile and digital innovation, our goal is to move the bar yet again, leveraging emerging technologies and the flexibility of the SYNC platform to enhance the ownership experience for customers."

Just ahead of expected additional announcements at the 2014 International CES®, the world's largest hands-on showcase of emerging innovation, Ford announces it will expand its industry-leading SYNC AppLink™ system to 3.4 million more vehicles currently on the road.

Since its launch in 2010, Ford has migrated SYNC AppLink to more products and customers around the world, enabling vehicle owners to access and control smartphone apps including TuneIn, NPR and iHeartRadio via voice command. More than 1-million vehicles equipped with SYNC AppLink are on the road today, and another 3.4 million vehicles – model year 2010 and newer – will be eligible to download AppLink later this year.

Currently, SYNC AppLink allows users to seamlessly control over 60 smartphone mobile apps – on both iOS and Android platforms - using the car's voice commands, enabling drivers to keep their eyes on the road and hands on the wheel. Ford is the first automaker to offer an open developer program, www.developer.ford.com, to help keep customers connected inside the vehicle and will continue to add new SYNC-enabled smartphone apps to enhance the driving experience.

Today, consumers continue to demand more personalized, simplified and integrated in-vehicle experiences. And, with consumers spending more time with digital media than with any other, Ford hopes to turn the connected vehicle into an intelligent vehicle, one that simplifies and personalizes the in-vehicle experience for the consumer.

Beyond the in-car experience, Ford's ultimate goal is to use connectivity and digital to transform every aspect of the ownership experience, and to build the foundation for future mobility initiatives. With the eventual proliferation of embedded telematics capabilities for Ford Motor Company's SYNC system, as recently announced on Lincoln MKC, a newly aligned organization will manage connectivity across the entire enterprise.

"SYNC launched a sort of connectivity arms race in the industry," said Jim Farley, executive vice president, Global Marketing, Sales and Service and Lincoln. "The opportunity is much bigger than just in-car technology – it's now about connecting the vehicle to a larger ecosystem leveraging 'the Internet of things.' We are creating a seamless and immersive experience for customers that begins with their first visit to our digital sites and continues throughout their ownership experience."

Leading the newly aligned organization is automotive and telematics industry veteran Don Butler, who brings a wealth of experience. Butler will report to Nair, with matrix reporting to Farley and Nick Smither, group vice president and chief information officer. Butler was most recently vice president, Global Strategy for Cadillac at General Motors, where he also led strategy and business development for the company's OnStar division. Butler also served as vice president for telematics startup INRIX.

"Not only does Don understand the connected car landscape, but probably just as important, he understands customer expectations," said Nair. "Having a leader with technology experience both inside and outside the industry is a rare combination – we're excited to have Don join our team."

In the newly created position of executive director, Connected Vehicle and Services, Butler is responsible for Ford's global integrated connectivity vision and strategy. He will lead development of a near-, mid- and long-term plan, with the goal of delivering a best-in-class customer experience both inside and outside of the vehicle.

As part of Ford's plan to deliver a fully integrated connected car experience, the Connected
Vehicle and Services group will work with the newly created Global Digital Marketing organization to help accelerate the goal of connecting customers to their vehicles.

"We remain laser-focused on creating connected experiences our customers want and value, providing solutions specifically tailored to their individual needs and to market conditions," said Farley.
---
By Brandon Turkus
---
See also: Detroit Three autoworkers could get huge bonuses, Enterprise customer billed $47k for Mustang stolen from rental lot, This unique '64 Mustang was Edsel Ford II's first car.