Detroit Three autoworkers could get huge bonuses
Mon, 06 Jan 2014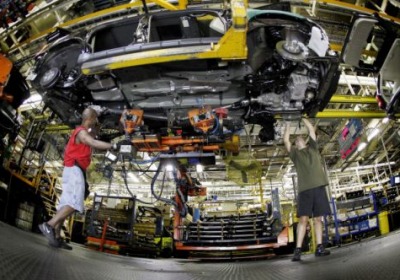 For a long time, being a line worker for one of the Detroit Three has meant living with an uncertain future. With the health of American automakers on the rise, though, things are also starting to look up for the men and women building the cars. The latest sign that things aren't bad? Big profit-sharing checks.


According to The Detroit News, Ford, General Motors and Chrysler could end up paying over $800 million to 130,000 workers as part of a profit-sharing plan. According to The News, the economic impact of these profits in Michigan alone could exceed $400 million, besting the NFL's Super Bowl, MLB's All-Star Game and the NHL's Winter Classic for their economic impact.

This is the third straight year the Detroit Three have issued profit-sharing checks to UAW employees, and for many workers, the checks are as close as they'll get to a raise, due to the most recent contract between the union and the manufacturers. On average, employees at GM and Ford receive $1 for every $1 million in North American (not just the US) pre-tax profits. Chrysler, meanwhile, gets a similar deal, although the Auburn Hills-based company calculates profit sharing using 85 percent of the brand's global profits.
---
By Brandon Turkus
---
See also: Fiat to list on New York Stock Exchange?, Enterprise customer billed $47k for Mustang stolen from rental lot, Marchionne completed Fiat-Chrysler deal from a Florida beach.