Ford pits Cobra Jet versus GRC Fiesta ST, worlds collide
Thu, 31 Oct 2013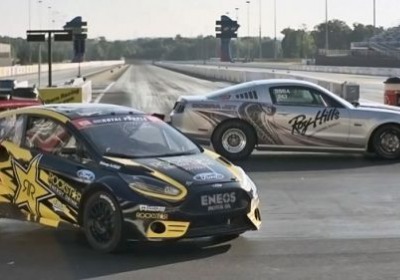 Racing takes on many forms in the automotive world. There are sanctioned events that are as varied and diverse as NASCAR, Formula One, Global Rallycross and drag racing, and to be good enough to win competitively in one discipline, you need to have a specialized vehicle. Or do you?

Ford decided to find out what would happen when its Global Rallycross Fiesta ST, driven by Tanner Foust, lined up against its Mustang Cobra Jet drag racer, driven by Roy Hill. In one lane, Tanner has just 2.0 liters of displacement to work with, while Roy has more than double that, at 5.0 liters. Evening the playing field a bit, Tanner has a massive turbocharger and all-wheel drive; Roy has to filter all his supercharged power through the rear wheels only.

So, who wins? We suggest you see for yourself in the press release and video below. And we're holding out hope that Tanner's challenge at the end results in another video from Ford Racing...




COBRA JET VERSUS GRC FIESTA ST ON THE zMAX DRAGWAY


DEARBORN, Mich., Oct. 31, 2013 - On one side, you have a 2013 Cobra Jet – a 5.0L V8 powerplant with a Ford Racing-built Whipple 2.9L Supercharger. On the other is a Ford Fiesta ST Competition Car – a 2.0L, 550+ horsepower engine with an OMSE gearbox with custom ratios.

For fun, we took one of each to zMAX Dragway at Charlotte Motor Speedway, with drivers Roy Hill and Tanner Foust, just to see how the two would compare on the quarter-mile.

"I hit sixth gear before I was even halfway down the track," said Foust as he recapped racing his GRC Fiesta ST on a dragstrip for the first time. "As I was hitting the rev limiter, I could already hear Roy laughing."

The Cobra Jet has dominated the NHRA's Factory Stock Showdown since the race's inception two years ago. The GRC Fiesta ST has won three consecutive GRC Championships in 2011-2013 and has been on the X Games podium around the world, from the US to Germany.

All-wheel-drive versus rear-wheel-drive. Ample displacement versus small displacement and more boost. Cunning maneuverability versus Pure Muscle.

The race was closer than you'd think.
---
By Jeremy Korzeniewski
---
See also: Shelby GT500 laps N"urburgring in under 7:40?, Ford bringing 10 custom Transit Connects to SEMA, 2014 Ford Fiesta 1.0L EcoBoost to hit 45 mpg for $16,445*.