2014 Ford Fiesta 1.0L EcoBoost to hit 45 mpg for $16,445*
Mon, 28 Oct 2013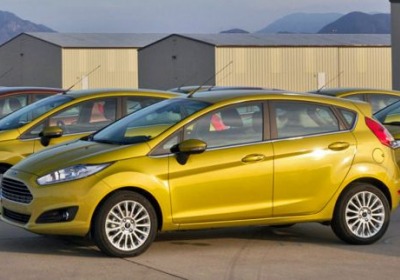 When Ford first announced its plan to put the 1.0-liter EcoBoost three-cylinder engine under the hood of the 2014 Fiesta, it promised hybrid-like fuel economy without a hybrid-like premium. We're still waiting for official specs on this engine, but thanks to the EPA's fueleconomy.gov website and Ford's retail site, we now know what customers can expect in terms of both fuel economy and price.

All along, Ford has said that it expects the 1.0-liter EcoBoost to get more than 40 miles per gallon on the highway, and now the EPA backs this up with official ratings of 32 mpg in the city and 45 mpg on the highway. These numbers are an increase of two mpg city and four mpg hwy compared to the current fuel-sipping Fiesta (the 1.6 SFE), and it also beats other three-cylinder cars for highway mileage like the 2014 Mitsubishi Mirage (44 mpg highway) and 2014 Smart Fortwo (38 mpg highway); the Fiesta 1.0 EcoBoost is lower than both three-pot rivals, though, in city fuel economy with the Mitsubishi getting 37 mpg city and the Smart rated at 34 mpg city. This model handily beats high-volume small cars like the Honda Fit, Toyota Yaris and Chevy Spark in both city and highway numbers.

As for pricing, the 1.0-liter EcoBoost is offered on both the sedan and hatchback as a $995 option called the SE Manual EcoBoost package, which is aptly named since it's only offered on SE trim-level Fiestas equipped with a manual transmission. Along with the engine, the package also comes with 15-inch steel wheels, regenerative brakes and a decklid spoiler on the sedan. This means the four-door Fiesta 1.0 EcoBoost will start at $16,445*, or $17,045* for the hatchback (*not including $795 for destination).
---
By Jeffrey N. Ross
---
See also: 2014 Ford Fiesta Titanium, 2015 Ford Mustang potentially 'leaked' by Car and Driver, Ford settles class action suit over defective Navistar diesel engines.