Ford Police Interceptor with 2.0L EcoBoost rated most fuel-efficient police sedan
Tue, 26 Nov 2013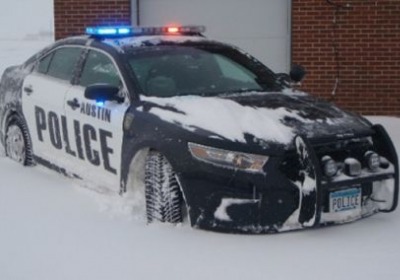 Back in September, Ford announced a non-pursuit version of its Police Interceptor Sedan, which swaps out a choice of two V6 engines for a fuel-efficient 2.0-liter EcoBoost inline four-cylinder. This Special Service Police Sedan will be marketed to law enforcement agencies looking to cut fuel costs and don't need the extra power.

For college campuses, detectives and the like, this new police car has now been certified with EPA fuel economy estimates of 20 miles per gallon in the city, 32 mpg on the highway and a combined rating of 24 mpg. These figures represent a decrease of two mpg in city and combined ratings compared to the civilian-spec 2014 Taurus. These police cars still offer active grille shutters for better aerodynamics, although we're guessing agencies upfitting their cars with light bars and push bumpers aren't exactly concerted with aerodynamics. The true benefit of the SSP version is when it's compared against other police sedan options like the Dodge Charger, Chevy Impala, Chevy Caprice and even the V6 Police Interceptor Sedan.

Ford claims the new Police Interceptor Sedan SSP is the most fuel-efficient current option for police departments, saying that this car can save $1,720 per car over three years and almost $260,000 over the same span of time for fleets with 150 vehicles. There is an official press release posted below, and also check out the gallery of images from Ford collected from various police agencies across the US (although none show the 2.0-liter SSP model). Head on over to Ford's Police Interceptor mini-site for even more pictures of the Police Interceptor Sedan and Utility.

Ford Special Service Police Sedan Becomes EPA-Rated as Most Fuel-Efficient Police Vehicle Sold in the U.S.

-- New model achieves EPA-certified mileage rating of 20 mpg city, 30 mpg highway and 24 mpg combined
-- Vehicle's special service police designation designed to meet the needs of detectives, administrators, campus police and law enforcement agencies looking to maximize fuel efficiency, lower operating costs

DEARBORN, Mich., Nov. 26, 2013 – Ford's latest police vehicle is the most fuel-efficient police car sold in the United States, with an EPA-estimated rating of 20 miles per gallon city, 30 mpg highway and 24 mpg combined.

The special service police vehicle combines the durability of Ford's Police Interceptor sedan with the fuel efficiency of its 2.0-liter EcoBoost® engine.


The fuel savings potential of the new special service police sedan compared with the most fuel efficient competitors is significant, especially for larger fleets spending tens of thousands of dollars per month on gasoline for police vehicles.

Both Dodge and Chevy's most efficient police sedans achieve an EPA-estimated rating of 21 mpg combined; neither hit the 30 mpg mark on the highway cycle.

Based on the EPA-estimated ratings, when driven 30,000 miles per year – common for police-agency work – and with gas prices at $3.21 per gallon (national average based on EPA survey Nov. 18), the Special Service Police package could save agencies approximately $1,720 over three years compared with the most efficient competitors in the market today, which are rated at 21 mpg combined.

For police agencies operating fleets as large as 150 vehicles, the savings estimate over three years jumps to approximately $257,940. Agencies operating smaller fleets of only 50 vehicles could still see their three-year savings add up to approximately $85,980.

"Agencies looking to reduce their fuel expenditures, especially for non-pursuit vehicles in small rural agencies, universities and for detective work will want to take a look," said Jonathan Honeycutt, Ford police marketing manager. "We've had great feedback on the vehicle and had a lot of agencies asking about it."

The addition of the 2.0-liter EcoBoost engine means agencies will have four powertrain choices in the Police Interceptor sedan, including a V6 lineup that outperforms V8 engines of years past.

Police Interceptor sedan is available with a 3.5-liter V6 with front-wheel drive, a 3.7-liter V6 with all-wheel drive and the powerhouse 3.5-liter V6 EcoBoost engine with all-wheel drive – allowing police to choose the powerplant that best meets their patrol requirements.

To help achieve best-in-class fuel efficiency, the special service police sedan will offer Active Grille Shutters that manage airflow to optimize the balance between engine cooling and aerodynamics. With the addition of the new engine, Ford remains confident in its "Power of Choice" strategy that includes not only retail customers, but fleet customers as well.

The new Special Service Police sedan equipped with the 2.0-liter EcoBoost retains all the essential police DNA that goes into pursuit-rated Police Interceptor sedans, including safety and durability features. Plus it is upfit-friendly and purpose-built. Commonality of parts remains an integral part of the special service police sedan.
---
By Jeffrey N. Ross
---
See also: Ford adding stop-start to all major model lines, Saleen SA-30 Mustang, Camaro and Challenger help celebrate the big 3-0, Ford Edge Concept previews new look, can park itself remotely.