Ford Edge Concept previews new look, can park itself remotely
Wed, 20 Nov 2013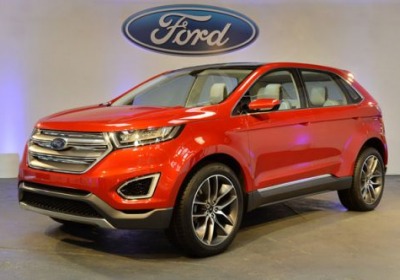 It turns out the image we saw back in February did, in fact, reveal the next-generation Ford Edge – at least in concept form. We still have to wait to see what the design will look like in production guise, but until then, Ford is giving us a good idea thanks to the Edge Concept being introduced at the LA Auto Show.

The new styling is an evolution of the current crossover's face with narrow headlights and a prominently slatted grille, while the rest of the design adds a more dynamic appearance with interesting body creases and horizontal taillights. We haven't gotten a look inside the Edge Concept just yet, but Ford is promising a suite of advanced driver-assist technologies including a new self-park system that allows activation from inside or outside the vehicle along with obstacle avoidance and an adaptive electric power steering system.

Ford will continue to offer an EcoBoost engine option in the upcoming Edge, and it will get active grille shutters to help maximize fuel efficiency. No word yet on when we'll be seeing the next-gen Edge in production form, but as we reported recently, it will become a global model in markets including Europe, China and South America. Ford's press release is posted below, but we'll have more information and images up later today.

With Self-Parking Technology and Obstacle Avoidance Capability, Ford Edge Concept Is Tomorrow's Utility Today

-Ford Edge Concept revealed today at Los Angeles Auto Show offers strong hints at the technology, dynamic design and premium craftsmanship that will define the company's next global utility vehicles

-Advanced, automated driving technologies include self-parking and obstacle avoidance systems currently under development by Ford; these technologies preview a future of semi- and fully autonomous driving options, delivering tomorrow's technology today

-Sleek exterior design communicates athleticism, confidence and capability; interior finished with premium materials and craftsmanship surpassing segment expectations

-Ford utility vehicles will be America's best-selling utility brand for three straight years in 2013, outpacing the nearest competitor by 32 percent through October of this year


LOS ANGELES, Nov. 20, 2013 – Ford, the company that defined the crossover utility vehicle segment, today introduced new automated driving technologies in the Ford Edge Concept. The technologies include a push-button and remote-operated parking feature customers could use from either inside or outside the vehicle.

"The original Ford Edge offered customers in North America a fresh, compelling choice for an accommodating, efficient and safe medium utility vehicle," said Joe Hinrichs, executive vice president and president of The Americas, Ford Motor Company. "The next-generation Edge – previewed in the Ford Edge Concept – will build on these cornerstones to create a global vehicle with technology to make life easier, and design and craftsmanship to appeal to customers around the globe."

Key attributes of the Ford Edge Concept – a sleek, sporty appearance; capability; fuel efficiency; and technology that assists the driver – are in line with what customers value around the world, which is driving global growth in the utility vehicle segment.

Data provided by IHS Automotive indicate global utility vehicle sales grew 45 percent between 2007 and 2012. The utility segment now accounts for more than 13 million sales annually – 17 percent of the global automotive market.

Utility vehicle sales in China are projected to grow significantly, by more than 100 percent from 2012 to 2017, according to IHS Automotive. In South America the utility segment is projected to grow 39 percent, and in Europe it is projected to grow 27 percent over the same period.

The current Ford Edge remains a segment sales leader in the United States. Edge is especially well-received in Southern California, where it accounts for nearly one in four sales this year of five-passenger medium utility vehicles. With market share of 23 percent, Ford Edge is the best-selling five-passenger utility vehicle in Southern California, according to Ford analysis of retail registration data from R.L. Polk.

Moreover, U.S. Ford-brand utility sales overall are up 12 percent through October compared to last year, and Ford utility vehicles will be America's best-selling utility brand for three straight years in 2013, as it is outpacing the nearest competitor by 32 percent through October.

Advanced features to make smarter vehicles and better drivers
Driver-assist technologies and semi-automated features in Edge Concept hint at a future offering even more intelligent and capable vehicles from Ford. These sensor-based technologies form the building blocks for the future of automated driving, and will help make driving safer and more efficient.

"The rate of change in vehicle technology right now is unprecedented," noted Raj Nair, Ford group vice president of global product development. "Our engineers around the world are advancing the systems that will ultimately help make drivers smarter, safer and more efficient. From advanced engine systems to collision avoidance and automated driving systems, Ford will continue to lead in delivering the technologies consumers want and need."

Fully assisted parking aid, a prototype technology, lets customers park their vehicles at the touch of a button, or even by remote control. The concept builds on Ford's current active park assist feature. It can find a perpendicular parking space using ultrasonic sensors. From inside, the driver pushes a button to activate the system; from outside the vehicle, fully assisted parking aid can be remotely activated, allowing customers to wait until the vehicle has pulled out of a tight parking spot before entering.

Using similar sensor and automated vehicle control technology, Ford has also begun a research project designed to refine advanced obstacle avoidance systems. In this case, the research and development vehicle is able to issue warnings if it detects slow-moving or stationary obstacles in the same lane ahead. If the driver fails to steer or brake following the warnings, the system will automatically steer and brake the vehicle to avoid a collision.

Adaptive steering, another new technology from Ford featured on Edge Concept, makes steering at low speeds dramatically easier, and steering in all conditions feel more confident and engaging. The technology, which builds on Ford's electric power-assisted steering system, controls the relationship between how much the driver turns the wheel and how much the road wheels turn. This means that low-speed steering – such as pulling into or out of a parking space – requires much less turning of the wheel.

Tomorrow's technology available today
Developing technology that can help people around the world feel more confident and secure is a high priority for Ford. Ford Edge Concept features many of the automated driver-assist technologies – the building blocks to fully automated vehicles of the future – that the company offers on its global products today. These include:


-Active park assist, which can ease the stress of parallel parking by using sensors and the steering system to guide a vehicle into a parking spot; the driver controls the gas and brake pedals. Available on 12 Ford models today
-Lane-Keeping System, which uses a forward-facing camera that can scan the road surface for lane markings. The system can evaluate if the vehicle is drifting out of its lane and then alert the driver by vibrating the steering wheel. If the driver does not respond to the vibrations, the system provides steering torque to nudge the vehicle back toward the center of the lane. Available on 11 Ford models today
-Adaptive cruise control and collision warning with brake support, which uses radar to detect moving vehicles immediately ahead, and can modify cruising speed if necessary. Available on 10 Ford models today
-Blind Spot Information System, which uses radar sensors in the rear corners that monitor the spaces next to and just behind the vehicle. On the road, these sensors trigger a warning light in the mirror when there is another vehicle in the driver's blind spot. Available on 13 Ford models today

Sleek, athletic exterior design defines Ford Edge Concept
The technologies in the Ford Edge Concept complement the vehicle's exterior design, which is carefully sculpted, fluid and athletic. The side view is highlighted by a D-pillar line that comes down the rail, takes a jog and returns.

Strong shoulders on Ford Edge Concept add to the feel and appearance of a runner in the starting blocks. The rearward slope of the grille influences the shape of the hood, which is both muscular and more compact. In a unique execution, the three-bar grille is connected to LED headlamps in a premium fashion.

To aid the fuel efficiency of a next-generation EcoBoost® engine with start-stop technology, the Edge Concept has a new high-tech application of Active Grille Shutters. The shutters automatically open and close to maintain ideal engine operating temperature and maximize aerodynamic efficiency. When activated, a panel slips down from above, then two more move into place, appearing as if they radiate from the Ford oval. The brighter finish gives a stunning contrast to the black background.

To improve efficiency further, unique air curtains are positioned on the lower part of the fascia. The air curtains and ducting are designed to guide air from the front of the vehicle, out through the front wheel wells and down the vehicle side.

LED lighting is used on both the headlamps and taillamps of the Ford Edge Concept.

Functional and decorative design elements combine to create a stunning display – these technical graphics are a hallmark of modern Ford design. The headlamps light up in complete white, creating an uninterrupted, homogeneous display. Individual LEDs light up crystal cubes on the high beams.

The turn signal transforms from a chrome-appearing piece into bright amber, lit from behind through microscopic holes in the bezel, adding to the laser-thin appearance of the headlamps. The taillamps are executed in a similar fashion, cleverly and stylishly connected to the backlight.

The exterior is painted in Copper Flame, a modern interpretation of a premium color currently popular on Ford cars.


Elevated craftsmanship, elegant colors and rich materials
The interior of Ford Edge Concept is open and airy, with a level of craftsmanship and material quality that consumers around the world will appreciate.

"We wanted the interior to be consistent in its dynamic character with the exterior of the Ford Edge Concept," said Hak Soo Ha, interior design manager. "We call the interior environment Dynamic Sanctuary, because it combines the energetic character of the exterior with a more premium cabin execution. The shapes provide a dynamic, in-motion impression that soothes rather than fatigues."

Premium interior elements include:

-Leather-wrapped and hand-stitched instrument panel
-10-inch touch screen center display with MyFord Touch®
-Dynamic center stack with premium mechanical switchgear
-Unique gear shifter
-Bright work on the armrest, door-release bezel and air registers
-Floating binnacle top
-Unique steering wheel
-Scuff plate with bright silver finish, matte black paint and LED-lit "Edge"

High levels of craftsmanship and rich materials unify the interior of Ford Edge Concept. Copper is used as the accent color in the carpet, instrument panel and other areas for its premium appearance, complementing the exterior paint color.

Premium black Nubuck wraps the upper instrument panel, center console and door elements, enhanced by elegant stitching. The heavy, oiled-grain texture has a feel similar to leather used on high-end furniture; this is juxtaposed with smooth leather on the touchpoints.

The vehicle's leather seats are executed with a distinct perforation pattern, as well as premium stitching and accent plating in the head restraint and top of the shoulder bolster.

"The Ford Edge Concept is the latest example of a utility vehicle that delivers the attributes global customers value most – design, fuel efficiency, driving dynamics, and customer-focused technology to help the driver feel more confident," said Hinrichs.
---
By Jeffrey N. Ross
---
See also: 2015 Ford Mustang to make world debut on Dec. 5 [w/video], Man turns Ford Fiesta into a one-car band, 2014 Ford Transit Connect configurator fires up for the whole family.