First new Datsun in decade sketched, set for Indian reveal
Mon, 01 Jul 2013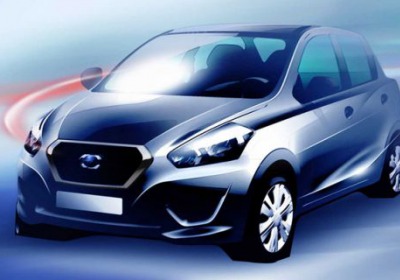 Nissan's Datsun nameplate revival will begin with two models bound for the Indian market. Nissan has released sketches of a five-door hatchback based on the Micra (codenamed K2) and a top-down view of a hood that could potentially be from a sedan.

The company's press release says all will be revealed on July 15 in New Delhi, India. The Datsun lineup will be first offered in 2014 to that country's ride-deprived residents as well as Indonesia and Russia. Later in 2014, South Africa will join the list.

We've heard Nissan plans for Datsuns to share platforms with company-owned Lada. In January, we heard the projected price tag could be around $3,000 USD to compete with Chinese imports. The official press release (which can be read in full below) says nothing about either of these reports, however.

But if a small, super-low-cost Datsun sounds good, you'll be disappointed to hear that North America will most likely never see the brand sold here again.

Datsun Brand Gives a Glimpse of the First Datsun Model to be Unveiled on July 15th in India

• Datsun reveals the first Datsun model sketches

• Datsun brand world premiere will take place on July 15th in New Delhi, India
• Datsun webpage goes live on July 1st

YOKOHAMA, Japan (July 1, 2013) - Datsun today revealed sketches giving a preview of the first new generation Datsun car, which will be unveiled at a world premiere event in New Delhi, India on July 15th, 2013.

The car will be the first product aimed for the Indian market - and the first of the future Datsun model line-up to be launched from 2014. The premiere event will not only unveil the new model, but also introduce the Datsun brand whose return to the market was announced in March 2012.

It marks a significant milestone and a new chapter in the history of this legendary brand aimed for high-growth markets like India, Indonesia and Russia in 2014 to be followed by South Africa later in the year.

Although Datsun models will be individually developed for different markets, the concept will follow a common inspiration. All future Datsun models will offer up-and-coming customers in high-growth markets an engaging driving experience, peace of mind ownership and accessibility at the right and transparent price with a competitive Total Cost of Ownership. These product values will be supported by Nissan Motor Company's experience as a global car manufacturer and technical expertise for local optimized solutions. The 21st century Datsun will deliver a rewarding brand experience with no compromise in terms of accessibility, reliability and durability – the values deep routed in the Datsun heritage.

"Datsun will bring competitive products and services, modern and aspirational, while at the same time reassuring, providing superior value and specifically developed for the emerging and ambitious new Middle Class in high-growth markets. The Datsun cars will be locally developed with the support of Nissan Motor Company engineers and stylists and will be locally produced", said Vincent Cobee, Head of Datsun.
---
By Chris Tutor
---
See also: Bug-eyed next-gen Nissan Titan spied testing, 2014 Nissan Versa Note, Nissan's big price cuts threatening others' profits.