First Ride: 2014 Jaguar F-Type [w/video]
Fri, 08 Feb 2013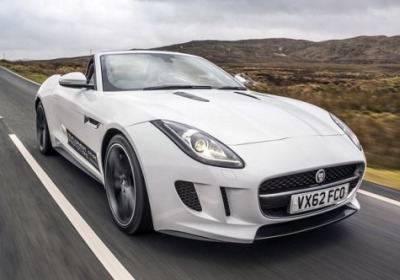 Shotgun In Coventry's First Sports Car In Decades

For every car, there is a passionate group of fans who love it, and the F-Type already has a few million rabid followers. These are fabulous things, sports cars, and we're very happy that Jaguar is making one again. Finally. (Before you start relishing the prospect of correcting us, the XK is really a grand tourer, not a sports car.)

The main question, however, will be whether someone in a position to buy a lifestyle-enhancing yet impractical F-Type will do so in the face of more established competitors from Porsche, Aston Martin, Mercedes-Benz, Audi and BMW. The last time Jaguar built a true two-seater sports car (1974 E-Type; the last of the XJ220 limited run in 1994 doesn't count in this league), most of today's new buyers were too young or may not yet have been born. At any rate, the F-Type has a lot of work to do for the brand beyond just selling itself.

Jaguar inviting us to Wales for an early ride in both the 375-horsepower F-Type S and 488-hp V8 S can be interpreted in many ways. Perhaps they want our opinions, as they are now in the final phase of pre-production testing. Or maybe they wish to stretch out coverage by key media outlets instead of depending entirely on the first drive "big bang" that will happen shortly. It's a little of both, we'd guess. The inevitable comparison tests in early summer should be quite revealing, as well.


The hot, low-lying Jag is a properly quick sports car.
The hills of north-central Wales are where Jaguar frequently wrings out the ride and dynamics of its cars prior to public launch. These country two-lanes (and more frequently 1.5-lanes peaking right on the center line and with no shoulder) are exactly the sort of roads for which all British car brands engineer their sportier offerings. Rain squalls howl through regularly, temperatures vary from hour to hour, and the sun emerges from dark, low clouds as brightly as the reflection from a sheet of Mylar. It's all dramatic and blustery, like five acts of a Shakespeare play, and so the job of the British car is to handle it all so that there is never any loss of face. No quivering of the iconic stiff upper lip. The car can snort and holler as much as it pleases while dominating its environs, but in the end, we need a simple cup of tea or a preferred pint of ale consumed quietly to celebrate.

For our rides in both the S, with its supercharged V6, and the also supercharged V8 S, we were driven by the F-Type's vehicle engineering manager with the thrillingly fabulous name of Erol Mustafa. (We promised Jaguar we would exaggerate the wonder of his name.) From what we could tell riding shotgun, the hot, low-lying Jag is a properly quick sports car that can at the very least compete with, and perhaps even scare, the occasional Porsche 911.


We would crave a manual shifter and clutch pedal for enhancing our interface with the F-Type.
In most basic terms, the 3,558-pound, $81,875 F-Type S with 375 hp and 339 pound-feet of torque is thrilling in a different manner from the 3,671-pound, $92,875 V8 S and its 488 hp and 460 lb-ft. This happens a lot with such choices, such as the one between a base Boxster/Cayman or the S versions. The 3.0-liter F-Type S is more the traditional nimble sports car, and it utilizes more of its rev range while piping out a lovelier sound more readily than the V8 S. Meanwhile, the 5.0-liter V8 S (the white car featured in our photo gallery and Short Cut video) seeks longer straights between the curves in order to stretch its considerable legs and make more of its belligerent noise. Both engines benefit from a twin-scroll Eaton supercharger packing a punch but producing absolutely no whine.

In a setting like this Welsh one, we would honestly crave a manual shifter and clutch pedal for enhancing our interface with the F-Type. Well, at least they've left the recessed gearbox rheostat found in the rest of the brand's lineup out of the F-Type recipe. We can choose to manually shift the ZF eight-speed automatic transmission using either steering-wheel-mounted paddles or the shift lever when it's moved left from Drive into Sport. Fortunately, there are rumors being carried by the winds from Coventry that Jaguar intends to grace the F-Type with a manual transmission before too long.



The two S models get this sport exhaust as part of the base price.
Happily, the ZF Quickshift sequential automatic eight-speed still performs extremely well whether upshifting or downshifting. Timings are nicely placed for each flick of the paddles, especially in Jaguar Drive Mode's Dynamic setting, where the little checkered flag icon lights up. It's easy, as well, to induce a nice raspy shift sound in between gears, like a well-traveled jazz vocalist's signature growl in a smoke-filled room. The two S models get this sport exhaust as part of the base price.

The base S trim also gets a self-locking mechanical limited-slip differential in back as standard kit, while the V8 S comes with an active electronic rear differential. With the roads as they were on this typically blustery West Country day, both cars – the S on standard 19-inch wheels and tires, the V8 S on a standard 20-inch set – performed smoothly while dancing over the scrubby hills whether the electronic stability control was engaged or switched off. The V8 S rear axle is noticeably quicker thinking and the power and torque delivery solid from low revs, so the throttle play is subtler stuff than with the S. It's simply two understandably separate driving styles and both are well executed. We're comfortable referring to both setups in the F-Type as true driver's cars and we're eager to see if future plans include a member of the F-Type clan hitting 3.5 seconds on acceleration dashes to 60 miles per hour. F-Type R, anyone?


Much of the whizbang gadgetry seen elsewhere in the Jaguar lineup is absent inside the F-Type.
The tracks front and rear are wider than on a Porsche 911, and the steering has been left up to trusted hydraulics (huzzah!). We have the feeling we'll really enjoy the steering, too, once given the chance to drive an F-Type for ourselves in a couple of months. With either engine located mostly arrears of the front axle and a more rigid suspension than any other recent Jag, turn-in can nearly be called kart-like, though a Leaping Cat is always more civil than that. The standard adaptive suspension on S models is supplied by Bilstein, and we enjoyed the authority with which it negotiated these demanding roads. Most of the all-aluminum body-in-white is derived directly from the XK lineup, but torsional stiffness is up by 8 percent and lateral stiffness up 30 percent.

We enjoyed the ambiance inside the F-Type, especially because much of the whizbang gadgetry seen elsewhere in the Jaguar lineup is absent here. We like the cleanliness of the cabin design, and the Jaguar onboard interface is equally clean and simple to interact with. Our seats in both test cars were the optional XKR-S performance seats with adjustable support wherever you need it, which we've always enjoyed as they hold one firmly in place laterally.


The fixed-roof version comes for the 2014 model year.
The F-Type launching as a convertible – the fixed-roof version comes for the 2014 model year – makes sense for several of Jaguar's key markets, China excepted. The simple, fully automated cloth top uses 12 seconds to open or close and is a lighter-weight roof system than a folding hardtop would be. When up, it doesn't quite make you feel as though you're in a coupe. Roof stowed, the F-Type cockpit is pretty well isolated when it comes to wind noise at interstate speeds, though it could always do a bit better in this regard.

It's good that the base 2014 Jaguar F-Type with a 335-hp V6 will start at $69,000, because the pricing of the two S models we sat in this day in Wales frankly worries us. The explanation from Jaguar for pegging its prices nearly spot-on with the iconic Porsche 911 is that there is far more standard equipment on these cars than Porsche's obsession with profits from options would ever allow.

Here's hoping true shoppers for this heady bracket care to keep these practical things in mind and manage to see the real beauty of this new Jaguar F-Type.


Vital Stats
Engine:

5.0L SC V8

Power:

488 HP / 460 LB-FT

Transmission:

8-Speed Auto

0-60 Time:

4.2 Seconds (est.)

Drivetrain:

Rear-Wheel Drive

Curb Weight:

3,671 LBS

Seating:

2

Cargo:

7.1 CU-FT

MPG:

NA

MSRP:

$92,875 (base)
---
By Matt Davis
---
See also: Artist imagines eerie world where cars have no wheels, Autocar compares new Maserati Quattroporte to Jaguar XJ, Jaguar hints at what might become of XK after F-Type's arrival.