Experimental mid-engine XP-819 Corvette going up for auction
Sun, 17 Feb 2013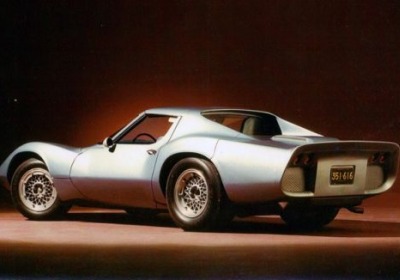 It seems to be commonplace that when a new Corvette is in development, rumors swirl about a possible mid-engine layout. As is the case of Chevy's most recent C7 Corvette, these rumors never pan out.

In any case, the idea for a 'Vette with an engine mounted behind the driver can probably all be traced back to a single car, the 1964 XP-819 prototype. Built as an "engineering exercise" back in 1964, the prototype was designed with a rear-mounted engine. History tells us that the idea of a rear-engine Corvette fizzled, and the XP-819 was eventually cut up into pieces and stored at a shop in Daytona Beach, FL.

After sitting for untold years, a restoration project started on the car, and while it isn't yet fully completed, the current owner of the car, Mid America Motorworks, will have the car on display at the 2013 Amelia Island Concours d'Elegance as a "driveable chassis" with hopes of having a fully completed car ready to bring to next year's show.

While we don't know many of the details behind this car, we can obviously see that it wears strong C3 styling details four years before the third-generation Corvette ever launched. We will be on hand at Amelia Island next month, so we'll bring you more coverage of this one-of-a-kind Corvette, but until then, check out the original images of the car above and the press release below.

XP-819 TO DEBUT AT AMELIA ISLAND CONCOURS D'ELEGANCE MARCH 8-10, 2013

Mid America Motorwork's Controversial Experimental Corvette will be unveiled as a drivable chassis in Florida

Effingham, Ill. (February 13, 2013) – Known as the rear-engine Corvette that was never meant to be, the 1964 XP-819 adds another chapter to its controversial history, attending the Amelia Island Concours d'Elegance as a drivable chassis. Mid America Motorworks, the world's largest aftermarket parts and accessories company for Corvettes, is thrilled to announce that the highly anticipated 1964 rear engine experimental Corvette, XP-819, will be unveiled to the public for the first time at Amelia Island the weekend of March 8-10, 2013.

Mike Yager, founder and Chief Cheerleader of Mid America Motorworks acquired XP-819 in 2002 when he bought it at an auction in Monterey, Calif. He quickly enlisted the help of Kevin Mackay, expert restorer and owner of Corvette Repair, Inc. in Valley Stream, N.Y., to complete a frame-off restoration. As Mackay dug into the restoration, he realized that this would be the most challenging project he ever worked on when each missing part had to be handmade, as no other car in the world shares XP-819's build.


This year, the drivable chassis will cruise onto the Amelia Island Concours d'Elegance show field with fully functional brakes, steering column and two seats. Mackay, who has more than 3,500 hours into the restoration, hopes to have the finished car, including the body, ready to debut in 2014 at the same show.

"I am looking forward to the day when XP-819 finds its way back home to MY Garage Museum," Yager said. "It will be exciting to show guests a Corvette that I can confidently say they have never seen before!"

This engineering exercise was created under the auspice of a Safety Proposal, a program headed by Frank Winchell. Zora Duntov was unimpressed and opted for a mid-engine design with more stability and continually pursued his idea. XP-819 reflects several of Larry Shinoda and John Schinella's later C3 design characteristics in the fender line, rear window deck area and swooping rear clamshell.

Chevrolet ordered XP-819 destroyed in 1969 and turned over the duties to Smokey Yunick. XP-819 was cut apart and stripped of usable parts and then unceremoniously stored in Yunick's shop out of Daytona Beach, Fla. until it was discovered by Steve Tate, a Chevy dealer out of Gallatin, Mo.

The 18th annual Amelia Island Concours d'Elegance will be March 8-10, 2013 at The Golf Club of Amelia Island at Summer Beach adjacent to The Ritz-Carlton, Amelia Island. The honoree for 2013 will be American racecar legend Sam Posey and will also celebrate the 50th anniversary of Porsche's legendary 911 and the 50th anniversary of the Corvette Sting Ray. The show's Foundation topped the $2 million mark in charitable giving at the 2012 event. Proceeds from the event were donated to charities on Florida's First Coast, a tradition that started at the Amelia Island Concours d'Elegance inception in 1996.

About Mid America Motorworks
Mid America Motorworks offers quality aftermarket parts and accessories for Corvette and Air-Cooled VW enthusiasts. For more information on Mid America Motorworks or to request a free catalog, call 1-800-500-1500 or shop online at www.mamotorworks.com. Follow us on Facebook and Twitter, and keep up with Mike Yager at blog.autotainment.com.

About the Amelia Island Concours d'Elegance
Now in its second decade, The Amelia Island Concours d'Elegance is among the top automotive events in the world. Always the second full weekend in March, "The Amelia" draws nearly 250 rare vehicles from collections around the world to The Golf Club of Amelia Island at Summer Beach and The Ritz-Carlton, Amelia Island for a celebration of the automobile like no other. Since 1996, the show's Foundation has donated over $2 million to Community Hospice of Northeast Florida, Inc. and other deserving charities on Florida's First Coast. The 18th annual Amelia Island Concours d'Elegance is scheduled for March 8-10, 2013. For more information, visit www.ameliaconcours.org or call 904-636-0027.
---
By Jeffrey N. Ross
---
See also: The 2014 Chevrolet SS sedan is for drivers who value performance above all else, 2014 Chevrolet SS makes its live debut, This is your 2014 Chevrolet SS.