2014 Chevrolet SS makes its live debut
Sat, 16 Feb 2013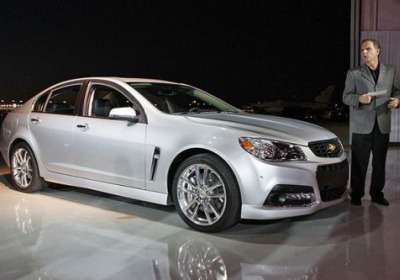 Chevrolet showed off the new 2014 SS in an airport hangar last night, its first rear-wheel-drive performance sedan in the US since the Impala SS from 1997. We'll have more to say about the SS later today, but this is the sedan that Chevrolet sees as the final piece in restoring its performance credentials. For those of you looking for a manual transmission, however, that wish will go unfulfilled – at least for now: the only two options buyers will have are the color and whether or not they want a sunroof.


We'll work on getting some more angles (in better light) today at Daytona International Speedway, but with fans seeing the car for the first time, we don't hold out much luck of getting a clear shot. So for now, enjoy the high-res gallery above.
---
By Jonathon Ramsey
---
See also: This is your 2014 Chevrolet SS, Chevy Corvette Stingray "colorizer" lets you chase the rainbow, Use this PowerPoint when convincing your spouse to let you buy a Corvette.