Driver, track worker survive horrific Ferrari 458 crash at Suzuka
Tue, 14 May 2013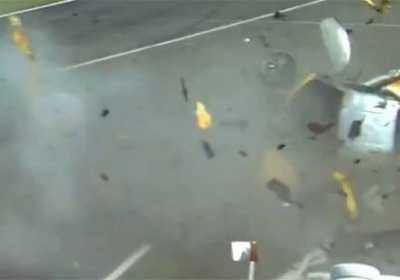 Two people are lucky to be alive after a brutal crash during a recent Ferrari 458 Challenge event in Japan. Driver Shigeru Terajima lost control of his machine on the Suzuka Circuit start/finish straight, left the course at nearly 200 miles per hour and struck the inside wall where a corner worker was standing and monitoring the race. The 458 immediately disintegrated, sending bits of carbon fiber bodywork, suspension components, wheels and tires scattering into the infield and across the race course. The passenger cell spun through the air before coming to a stop on its roof.

Miraculously, both Terajima and the corner worker survived the incident. While the driver was transported to a local hospital in serious condition, he's expected to make a full recovery. The track worker, meanwhile, saw the incident coming and dove out of harm's way at the last possible moment, saving him from the brunt of the impact. You can watch an observer's frightening footage of the Ferrari crash by scrolling below.




---
By Zach Bowman
---
See also: John Lennon's first car being sold at auction, Ferrari looking to become even more exclusive, Supercar parade entering highway is mesmerizing.