Dodge to resurrect Scat Pack?
Fri, 27 Sep 2013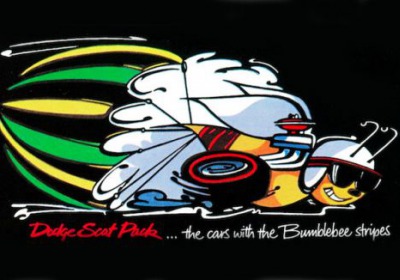 Before social media ever existed, if automotive enthusiasts wanted to be noticed or recognize other fans, they joined a car club. For Dodge muscle car lovers from 1968 through 1971, that group was known as the Scat Pack. Just like the Charger, Challenger and Dart nameplates, it looks like the Scat Pack could be getting a resurrection by Chrysler.

Automotive News is reporting that Chrysler recently renewed its trademark on the Scat Pack name, and while this is in no way a guarantee that the name will return, AN talked to Tim Kuniskis, Dodge President and CEO, who stoked the fire a little more. In the article, Kuniskis said that the name is "a very important part of our history" and added that "we like the whole idea of having a Scat Pack of cars." Scat Pack models were identified by their bumblebee stripes and helmet-wearing bumblebee logo, and the idea of a modern Scat Pack doesn't seem all that outlandish in light of recent vehicles like the Charger SRT Super Bee and the Ram 1500 Rumble Bee Concept.

What do you think, is this a cool idea, or is it just an unwelcome bit of nostalgia? Have you say in Comments.
---
By Jeffrey N. Ross
---
See also: Fiat-Chrysler alliance in jeopardy due to Pentastar's IPO filing?, 2014 Dodge Durango, Volkswagen Routan dead one last time.