Dodge Dart falls short of Consumer Reports Recommended, Caddy XTS and Lincoln MKS, too
Thu, 22 Nov 2012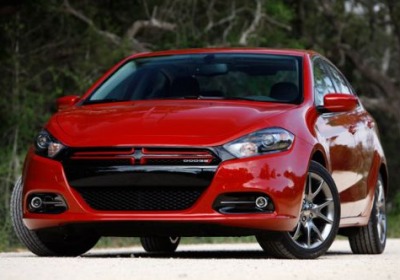 The Dodge Dart, Cadillac XTS and Lincoln MKS all failed to earn a "Recommended" rating from Consumer Reports. When it came to the compact Dart, the organization's testers thought the vehicle offered a quiet cabin, solid-feeling chassis and nimble suspension, but the new model ultimately fell short of the coveted rating due to powertrain issues. The institute's reviewers found the base 2.0-liter four-cylinder engine to be underpowered and noted "drivability issues" when the available turbocharged 1.4-liter four was paired with the optional dual-clutch transmission (some of our editors disliked it paired with the six-speed manual). CR also dinged the latter powerplant for sounding "raspy." For what it's worth, we think the forced-induction engine offers an excellent and playful exhaust note, but that's just us.

As for the XTS, CR lauded the car for its luxurious cabin, but the vehicle's experience was dulled by its finicky CUE infotainment interface. Overall, the big Cadillac scored much higher than its cross-town rival from Lincoln. While testers found the American luxury sedan to offer a quiet ride and quality fit and finish, they felt the MKS delivered a "cramped driving position, ungainly handling, uncomposed ride, and limited visibility." Ouch. At the end of the day, both cars fell short of rivals from Japan, Germany and Korea. Check out the full press release below with more details, along with CR's musings on the Chevrolet Spark and Lexus ES.

Consumer Reports Finds Dodge Dart Is Promising Small Sedan But Has Room For Improvement

Cadillac XTS and Lincoln MKS Fall Short of Expectations in Luxury Sedan Category

YONKERS, N.Y., Nov. 20, 2012 /PRNewswire-USNewswire/ -- The Dodge Dart, the first all-new model to emerge from the Fiat-Chrysler alliance, earned praise from Consumer Reports for its solid feel, handling and ride, and upscale options. But ultimately it didn't score high enough to be recommended in a very competitive small sedan class.

Consumer Reports testers found that the Dodge Dart has a relatively quiet cabin, its handling is fairly nimble, and the ride is taut yet compliant. However, where the Dart stalls out is its powertrains. The standard 2.0-liter four-cylinder feels underpowered, while the optional 1.4-liter turbocharged four-cylinder is raspy and has drivability issues when mated with the optional dual-clutch automated manual transmission. Tested were the 2.0-liter SXT ($20,680) and 1.4-liter Rallye ($24,490) trims – neither of which scored high enough to be recommended.

"The Dart is the first decent compact car from Dodge in decades," said Jake Fisher, Director, Consumer Reports Auto Test Center. "It has some solid positives. But overall it can't yet measure up to the best in class."


Consumer Reports also tested two big, opulent American luxury sedans in its January issue: the Cadillac XTS and the Lincoln MKS. While the XTS ($57,200) scored much higher overall than the MKS ($50,070) in the head-to-head matchup both cars underwhelmed in a class dominated by German, Japanese, and Korean models. Consumer Reports engineers found the Cadillac to be wonderfully luxurious, with a very spacious and well-appointed cabin. But it's hampered by its CUE infotainment system, which testers found to be convoluted and frustrating.

The Lincoln MKS offers plenty of features and has a quiet cabin with excellent fit and finish. But the car is hampered by its cramped driving position, ungainly handling, uncomposed ride, and limited visibility. With an overall road-test score of 60, the MKS is the lowest-Rated luxury sedan in class, lagging far behind previously-tested standouts like the Audi A6 and Infiniti M37.

The full report and road test results are available at ConsumerReports.org on November 20th and in the January issue of Consumer Reports on newsstands November 29 th. Updated daily, ConsumerReports.org is the go-to Website for the latest auto reviews, product news, blogs on breaking news and car buying information. Check out CR's ongoing Twitter feed at @CRCars.

The Chevrolet Spark was also tested in the Consumer Reports January issue. The four-door subcompact gets excellent fuel economy of 34 mpg overall and 42 on the highway. CR's engineers found that it has a surprisingly useable rear seat, a comprehensive assortment of features, and is affordably priced at $15,420. However, its sluggish acceleration, stiff and jittery ride and very noisy cabin dropped its overall score to a meager 34. This is one of the lowest scoring cars tested by CR in recent years and is too low to recommend.

Rounding out the latest test group was the Lexus ES. Consumer Reports engineers gave it high marks for its comfy, quiet interior, impressive hybrid and V6 drivetrains, and excellent fuel economy, especially in hybrid form. However this redesign took a step back in ride and interior refinement from the previous ES. Although its handling didn't impress and its controls were newly complicated, both tested trims – the ES350 (43,702) and the hybrid ES330h ($44,017) – scored high enough overall to be recommended and rank among CR's higher-Rated upscale sedans.

Consumer Reports is the world's largest independent product-testing organization. Using its more than 50 labs, auto test center, and survey research center, the nonprofit rates thousands of products and services annually. Founded in 1936, Consumer Reports has over 8 million subscribers to its magazine, website and other publications. Its advocacy division, Consumers Union, works for health reform, food and product safety, financial reform, and other consumer issues in Washington, D.C., the states, and in the marketplace.

Consumer Reports has B-Roll available upon request of the Dodge Dart, Cadillac XTS, Lincoln MKS, Chevy Spark, and Lexus ES.
---
By Zach Bowman
---
See also: Chrysler to accelerate production of 2013 Ram and V6 engines, 2013 Lincoln MKS EcoBoost, Ford tumbles to second worst in Consumer Reports reliability survey, list dominated by Japanese [w/video].