Ford tumbles to second worst in Consumer Reports reliability survey, list dominated by Japanese [w/video]
Mon, 29 Oct 2012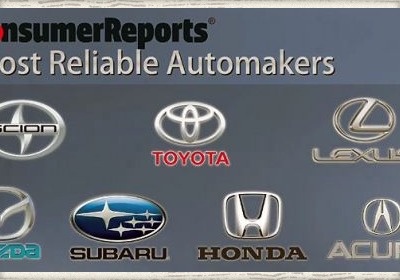 It's no secret that MyFord Touch has had its share of problems since being introduced, but the most recent reliability survey from Consumer Reports shows just how much this infotainment system has affected Ford. Just two years ago, the automaker was in the top 10 for the institute's reliability rankings, but since then, it has tumbled to the second-lowest rung just above dead-last Jaguar. In addition to MyFord Touch, CR also attributes a handful of new products that have had issues right out of the gate.

Compiled from 1.2 million subscriber surveys, this year's auto reliability survey heavily favors Japanese automakers, with eight of the 10 spots hailing from Japan. Toyota brands grabbed the top three spots (Scion, Toyota and Lexus – in that order) with Mazda, Subaru, Honda and Acura filling the next four spots. The only non-Asian automaker cracking the top 10 was Audi at number eight.

Audi climbed a total of 18 spots from last year, and Cadillac and GMC round out this year's top gainers breaking into the top 15. Helping Cadillac's upward movement, the CTS Coupe was named the most reliable domestic car. Lincoln, Volvo and Chrysler join Ford on this year's biggest loser list.

Scroll down to watch a video and see where some of the other brands rank for reliability this year.



Consumer Reports Auto Reliability Survey: Ford Continues Fall While Seven Japanese Brands Top List

Audi and Cadillac make major jumps in rankings

December 2012 CoverYONKERS, NY-A perfect storm of reliability problems has dropped Ford to next to last among the 28 car brands ranked in Consumer Reports 2012 Annual Auto Reliability Survey, while its luxury brand, Lincoln, placed just a notch higher. The findings were released today before the Automotive Press Association in Detroit.

Only two years ago, Ford was Detroit's poster child for reliability. It cracked the top 10 among brands in Consumer Reports predicted-reliability scores, with more than 90 percent of its models being average or better. This year the top seven spots are all held by Japanese brands.

"Ford's bumpy road can be seen in the numbers. Sixty percent of Ford-branded models and half of Lincolns were below average in predicted reliability, and none placed above average," said Jake Fisher, director of automotive testing for Consumer Reports.

Several factors contributed to Ford's decline in Consumer Reports' reliability rankings. A few new or redesigned models, including the Explorer, Fiesta, and Focus, came out of the gate with more problems than normal. Ford has also added the MyFord/MyLincoln Touch electronic infotainment system, which has been problematic so far, to many vehicles. In addition, three historically reliable models-the Ford Escape, Fusion and the Lincoln MKZ-are not included in the analysis; the three were redesigned for 2013 and CR doesn't yet have reliability data on them.

Toyota, on the other hand, has excelled in Consumer Reports' latest ratings. Its three brands-Scion, Toyota, and Lexus-swept the top spots. Toyota is clearly setting the pace in reliability. Of the 27 models in the brand's lineup, 16 earned the highest rating. The subcompact Toyota Prius C earned Consumer Reports' top score overall. The hatchback Prius, the larger Prius V, and the new Prius plug-in were also above average.

The Toyota trio was followed by four other Japanese makes: Mazda, Subaru, Honda, and Acura, in that order. All of the models produced by the top seven brands had average or better reliability. And of the 90 Japanese models reflected in Consumer Reports' brand comparison, 86 were average or better, with 35 earning the highest rating.

Leading the Europeans, Audi had its best showing ever, moving up 18 spots to eighth place, making it easily the most reliable European make and the top non-Japanese brand.


The findings from Consumer Reports 2012 Annual Auto Survey are based on subscribers' experiences with 1.2 million vehicles. The organization uses that extensive data to predict how well new cars that are currently on sale will hold up. The complete report and rankings are available at www.ConsumerReports.org starting today, and in the December issue of Consumer Reports.

Mixed bag for domestics

Cadillac is the top U.S. brand, having moved up 14 spots this year. Its CTS coupe was the most reliable domestic car. A number of other General Motors nameplates-Buick, Chevrolet, GMC-also moved up in the ranking. The Chevrolet Volt extended-range electric car continues to have above-average reliability, and the compact Chevrolet Cruze, dismal in its first year, improved to average.

Chrysler brands had a few setbacks. This year, Consumer Reports has enough data to report on some of the recently revamped Chrysler and Dodge models, and their problems have dragged the nameplates' rankings down. The Dodge Charger, for example, returns with well-below-average reliability. Other models had ups and downs. The V6 version of the Chrysler 300 sedan, with an average rating, is now the brand's most reliable model, and the V8 300 is its worst. Likewise, the V6 Jeep Grand Cherokee scores average and the V8 is now below par. The differences stem from the alternative powertrains and the extra features found in higher-priced versions. Separating its trucks into a new nameplate, Ram, didn't help Dodge's standing. And Fiat's 500 debuted with average reliability in its first year in the United States.

Japanese models are tops

Mazda is hot on the tail of the three Toyota brands, and its improvement is buoyed by the predicted-reliability score for the new 2013 CX-5 SUV, which is much better than average. And Subaru's standing improved, with its redesigned Impreza debuting with top marks and none of its models scoring below average. Honda dropped one spot in the ranking, to sixth place, but its worst vehicle, the Odyssey minivan, improved from below average to average.

Nissan and its Infiniti luxury brand performed well overall, but a few models kept them from ranking with the other Japanese nameplates. Nissan's Versa sedan, redesigned for 2012, was much worse than average, as was the large Armada SUV. The Titan pickup truck was also below par. Of the seven Infiniti models, only the convertible version of the G scored below average.

Germans brands lead Europe

All of the German luxury brands improved. Six of the seven Audis in CR's survey rated average or better, as did 10 of the 12 BMWs. But the high-end BMW 7 Series and the turbocharged six-cylinder version of the X3 SUV were much worse than average. Mercedes-Benz made a good showing, with the turbocharged, four-cylinder C250 sedan doing well in its first year and the V6 E-Class sedan moving from average to above average. But the redesigned M-Class came in below average in its first year.

Volkswagen was a mix. The redesigned Passat did well, and the CC, Eos, and diesel Jetta sedan improved. But the redesigned Beetle, four- and five-cylinder gasoline Jetta, sporty GTI, and Touareg SUV were below average. Volvo, which ranked highest among European brands last year, dropped 10 places, hurt by declining scores for the C30 hatchback and C70 convertible and a below-average showing for the aging XC90 SUV.

Consumer Reports reliability ratings do not come from the organization's experience during vehicle testing. Instead, it relies on owners to supply the Consumer Reports National Research Center with the data. Earlier this year, the organization asked subscribers to report about serious problems they've had with their vehicles in the prior 12 months. CR bases its predicted-reliability scores on the most recent three model years of data, provided the model has not been redesigned for 2013. The scores are presented as a percentage better or worse than the average of all cars.

The minimum sample size is 100 vehicles, but Consumer Reports often gets many more. Among 2012 models, the Honda CR-V drew the most responses: 2,981. Other 2012 models with more than 2,000 responses are the Hyundai Elantra sedan and the four-cylinder Toyota Camry and Subaru Outback. Some new and redesigned models were released too late to be in our survey, and redesigned 2013 models are not included in the brand's average reliability score.

Consumer Reports is the world's largest independent product-testing organization. Using its more than 50 labs, auto test center, and survey research center, the nonprofit rates thousands of products and services annually. Founded in 1936, Consumer Reports has over 8 million subscribers to its magazine, website and other publications. Its advocacy division, Consumers Union, works for health reform, food and product safety, financial reform, and other consumer issues in Washington, D.C., the states, and in the marketplace.
---
By Jeffrey N. Ross
---
See also: Ford, Renault, VW shareholder oppose French aid for PSA/Peugeot-Citro"en, NHTSA probing 2000-2003 Ford Taurus and Mercury Sable models over throttle issue, Acura NSX production car headed for Detroit debut?.