Detroit's new fleet of donated police cars have safety issues [w/video]
Wed, 23 Oct 2013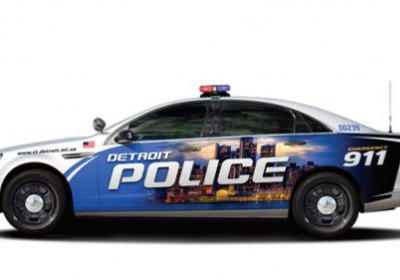 In a show of generosity in mid-August, Detroit's business leaders donated $8 million to the Police Department and Fire Department in order to buy 100 new police vehicles and 23 EMS ambulances. But now officers have discovered – and complained – that the police vehicles have glaring safety issues, Deadline Detroit reports. It is not made clear what models of the fleet vehicles – which include police versions of the Ford Taurus, the Chevrolet Caprice and the Dodge Charger – are affected by the safety issues.

Officers reportedly have complained that the Plexiglass partition separating front-seat officers and back-seat prisoners is easily breached, and that the front passenger seat is installed too close to the dashboard. Prisoners who manage to writhe out of their handcuffs can bend the Plexiglass and reach into the cockpit, and sitting too close to the dashboard can render airbags more dangerous and make officers more vulnerable to injury in a crash.

Mark Diaz, president of the Detroit Police Officers Association, received the complaints and reportedly said the vehicles would get safety updates addressing the issues. But Deadline Detroit reports that it checked some of the offending police cars and, as of the last few days, they hadn't been updated.

Head below to read the August press release marking the multi-million-dollar donation and new fleet vehicles, and to watch a video of Detroit Mayor Dave Bing hand over the keys to the fire and police departments.




Mayor Bing Present First Group of New Public Safety Vehicles to Police Chief and Fire Commissioner


08/22/2013 – Detroit Mayor Dave Bing today turned over the keys to 10 new EMS ambulances and 15 new police cars to Police Chief James Craig and Fire Commissioner Donald Austin. The vehicles are the first group to be put into service, thanks to an $8 million donation from Detroit's business community to strengthen public safety in the city. The remaining 13 EMS units are expected to be outfitted and ready for delivery before the end of this year. Another 85 patrol cars will be rolled out as the vehicles get equipped.

"Our corporate and philanthropic community stepped up to help our city in the midst of unprecedented financial challenges," said Mayor Bing. "Reducing crime and improving emergency response times have always been a priority for my administration. The new vehicles being delivered today to the police and fire departments are state-of-the-art and will greatly improve public safety and the quality of service that we provide to our citizens."

The 25 new public safety vehicles made their debut in a procession down Woodward Avenue in downtown Detroit, culminating with a news conference by Mayor Bing and Penske Corporation Chairman and Downtown Detroit Partnership Vice Chairman Roger Penske. Representatives from the corporations and foundations that contributed to the Mayor's Active and Safe Campaign rode in the public safety vehicles.

"This is an extraordinary day for the City of Detroit," said Roger Penske. "We are proud to offer new police cruisers and EMS units to Mayor Bing and the Police and Fire Departments. I want to offer my special thanks to the local business leaders and the Downtown Detroit Partnership for their outstanding efforts in helping us reach this milestone today. These vehicles will enhance the visibility of the police and fire efforts in the city, improve the safety and security of our neighborhoods and will provide an immediate positive impact on our city. "

The city's entire fleet of 23 EMS ambulances is being replaced at a cost of approximately $161,000 per vehicle. The EMS units are being built by Horton Ambulance on the International Terra Star Chassis. Each ambulance takes up to 100 days to build. The Terra Star units were ordered through a local dealer.

The 100 police cruisers were acquired through local Chevrolet, Chrysler/Jeep/Dodge and Ford dealerships, and a Detroit company is outfitting the vehicles according to City of Detroit specifications. The police cars cost from $45,000 to $50,000 each, depending on the make and model. The police vehicles presented today are Dodge Chargers, Ford Interceptors and Chevrolet Caprices.

In addition to Penske Corporation, the corporate and philanthropic donors working in conjunction with the Downtown Detroit Partnership are: Blue Cross Blue Shield of Michigan; Chrysler Group, LLC; Ford Motor Company; General Motors Company; Quicken Loans, Inc.; The Kresge Foundation; Platinum Equity, LLC; and Shinola. FirstMerit Bank serves as the financial partner in this collaborative project.

Mayor Bing launched his Active and Safe Campaign with a goal of raising $60 million over three years for updated equipment, technology and training for the city's first responders, as well as improved programming at Detroit's recreation centers.
---
By Damon Lowney
---
See also: Dodge Challenger spied exercising supercharged Hellcat Hemi V8, Hertz goes Dutch with Ford Focus ST-H, Ford idling Michigan Assembly Plant to trim Focus, C-Max supply.